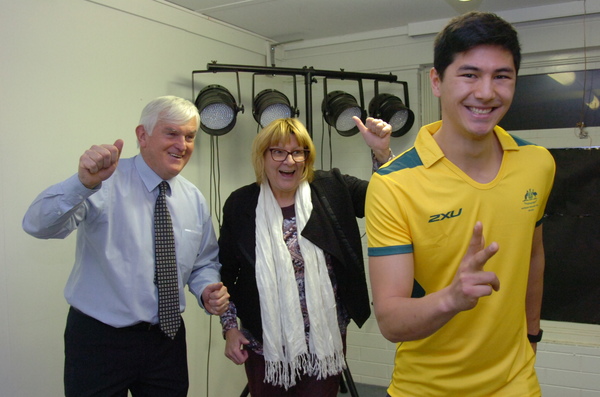 By Casey Neill
Emerson School is where Paralympian Nicholas Hum discovered the talent that could win him gold.
The 23-year-old returned to the Dandenong school on Friday 19 August, just hours before his flight to a training camp in Miami and weeks from taking the track in Rio.
"I started athletics when I came to Emerson, at an interschool sports athletics day," he said.
He jumped 6.30 metres back then.
Nick qualified for the Paralympic Games with a 7.05 metre jump at the Australian Athletics Championships in March.
"I had a crook back," he said.
"Even though I was in a lot of pain trying to jump, I had a lot of determination to try to qualify."
On 11 September he'll compete in the heats and final of the men's long jump in the T20 category, for athletes with intellectual disabilities.
"I remember watching the last Olympics in London and feeling so much inspiration," he said.
"I wanted to try to do the same.
"I've strived to do that for the last four or five years.
"Now that I've actually made it, that I'm actually going, I'm really proud of myself.
"All of this hard work has actually paid off."
Never did it cross his mind during his time at Emerson that he'd one day be going for gold.
He hoped his return would inspire current students to pursue their dreams.
"I like to tell them about my journey," he said.
"I'm very grateful to this school."

Proud campus principal Dianne Wright told today's students that Nick first attended the school back in 2005 at age 11.
"You were very good at sport and you represented Australia in basketball," she said.
"You gave basketball up for another love – athletics.
"You're an inspiration.
"When you're competing on 11 September, you have all these people here gunning for you."
Ms Wright said Nick also worked hard at his schoolwork, overcoming struggles with reading in particular.
He developed a love for woodwork at Emerson and went on to complete a four-year apprenticeship to become a qualified cabinet maker.
During his school years he won awards at the Dandenong and Royal Melbourne shows for his work.
"It just shows if you work really hard and never give up, build up those skills, you can become a champion like Nick," Ms Wright said.
Principal John Mooney said the Victorian Olympic Committee on 26 June 2011 identified Nick as showing great leadership at school and in athletics and basketball.
Nick was called into the MCG and given the Pierre De Coubertin Award.
"It shows you how dreams come true and how someone who gets chosen as a leader lives up to it," Mr Mooney said.
"May you be filled with an energy you've never felt before.
"May you jump further than you've ever thought you can."
Nick's advice to the students in the packed assembly was "be very kind to others and be really thankful" and for them to try their best.