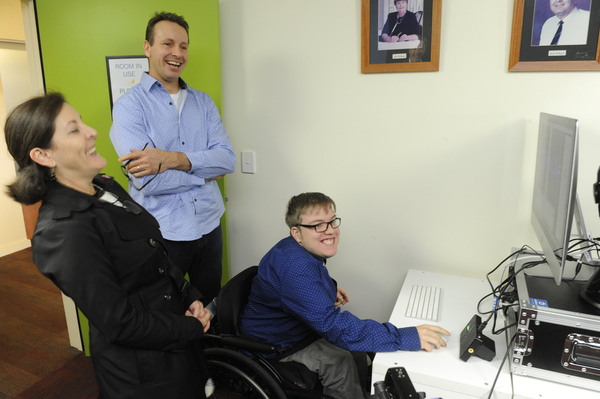 By Casey Neill
A $28,500 grant is boosting film skills at Wallara.
The Dandenong-based service for adults with disabilities received the cash from Gandel Philanthropy.
The trust's Australian grant programs manager Alexandra White visited Wallara's Potter Street headquarters on Monday 21 May to see first-hand the funding's impact.
Wallara's Karen Scholey said the money set up the Wallara TV School of Media and Communication.
"Wallara TV has been going from strength to strength over the past six years," she said.
"Some of our clients who got in front of the camera for Wallara TV expressed interest in learning filming and editing skills."
Last year, Wallara digital communications manager Jay Pinkster started providing some ad-hoc training.
The grant is allowing him to deliver a structured training course and purchased new equipment.
"They learn at their own pace, basically," Ms Scholey said.
"They help edit videos from our events.
"They help with some of the corporate videos. We post those on social media.
"Some of them are shared by our corporate partners."
Bella Firth has cerebral palsy that affects her speech but is making great progress through this program.
"She's just an absolute whizz on the computers," Ms Scholey said.
"She's broken down all the barriers."
A video edited by Bella Firth:
Wallara roving reporter Zach practices slow motion and editing effects: