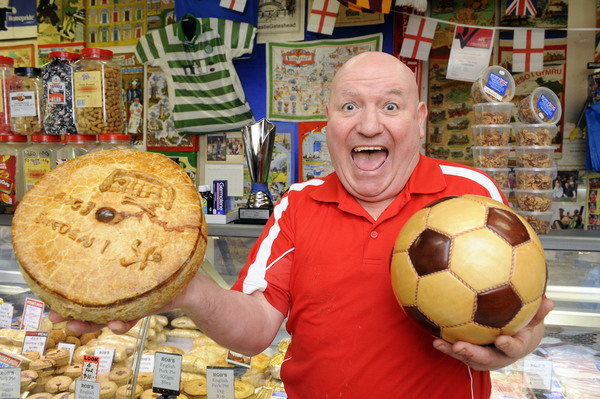 By Cam Lucadou-Wells
Dandenong butcher Rob Boyle is claiming a win with his first 'oracle' pork pie – which correctly predicted an English win over Sweden in the World Cup on 8 July.
Now he's baked up a new version ahead of tomorrow morning's semi-final showdown between England and Croatia.
According to the special three-kilogram pork pie, it will be England 4, Croatia 2.
Mr Boyle, who runs Rob's British Butchery, has no idea if the pastry prediction refers to a penalty shootout or a goal-fest during regular time.
To be honest, if England win, Mr Boyle would hardly care.
His and every other English football lovers' dream of the Cup "coming home" will be kept alive for the final against old foe France this weekend.
POSTSCRIPT:
Well, the Nostradamus pie didn't serve up the complete truth, as we all know.
It got the score half-right on the Croatian side, at least. History books will record that the final result was Croatia 2, England 1.
So we guess, the life of this pie will end in the same delicious way as most others.
We're sure the taste of defeat will equal the taste of victory in this case.