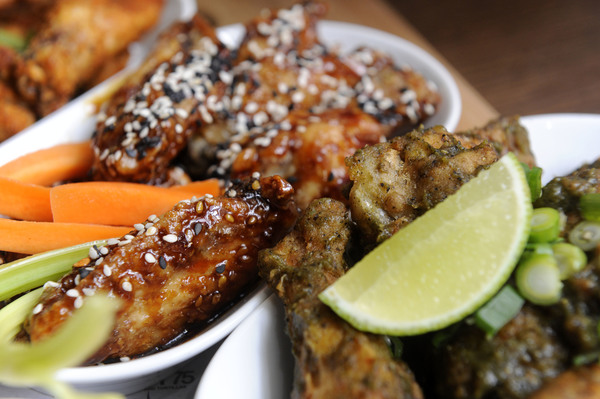 By Cam Lucadou-Wells
There's a ring of mystery behind the name of a lively new Dandenong diner SWAT75.
We can tell you that SWAT stands for Steaks, Wings and Tortillas – and we should add these are high-quality meats with a healthy amount of Central American zing and spices.
And 75 – well it's the last two numbers of Dandenong's postcode.
Just in case you forget where you are, sitting back in the modern, classy interior lit up by New Orleans' streetscapes.
It's also the year of birth for owners Ajay Kestwal and Mallik Mudigonda, who conjure up flavours of Mexico, southern USA and the Caribbean that are unique to Dandenong's foodie scene.
The two chefs' crafted their menu ideas while working in Caribbean cruise ships' kitchens, talking food with an international cast of 1500 crew members on each ship.
The highlight was when each crew member would request their country's food on their national day, Mr Kestwal said.
Opening last October, SWAT75 represents the pair docking in Melbourne, settling down with family and realising their dream for their own local business.
"We saw a lot of potential here in Dandenong," Mr Mudigonda said.
"We thought we'd take a chance."
Reportedly, regular diners come back for more of the slow-cooked beef and pork ribs.
We recommend the pork ribs glazed with a mild chili-cinnamon-and-lime laced Caribbean Jerk. The meat melts as the sauce sings in one's mouth.
For those who fancy a nuclear-level of heat, order a plate of beef ribs dressed in the flaming-orange Buffalo sauce.
As a point of difference, there's the wholesome 'superfood' burritos.
We were well sated by a wrap of fajita-spiced chicken crammed within quinoa, avocado, corn, sweet potato, roast pepper and three cheeses.
The eatery's generous, soft steaks are freshly sourced from a Dandenong butcher. We demolished a thick, tender porterhouse with a light chimichurri sauce – which is, herbs bathed in a high-quality oil.
The chicken wings are a chance to try an array of flavours.
We had a tasting plate that included a sweet honey-soy sauce with sesame seeds, a spicy Texan dry rub with a soothing buttermilk 'ranch' on the side, and a charred jalapeno pepper and lime juice with another cool 'ranch'.
Also deeply recommended is the rich Tennessee beef brisket burger in a barbeque sauce and battered onion rings.
In the near future are some truly special offerings. Personally, we can't wait for the big creole fish to swim onto the menu.
SWAT 75 is open at Level 1, Shop 104B, Dandenong Plaza on Mondays-Saturdays 8am-late and Sundays 9am-5pm. Details: 8774 3878 and swat75.com.au