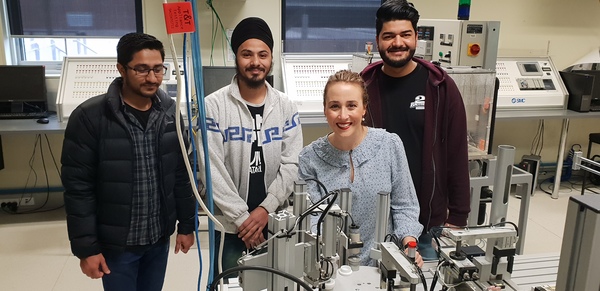 By Cam Lucadou-Wells
A new fleet of robotics equipment will be used to train the next generation of mechanical engineers at Chisholm TAFE.
Dandenong MP Gabrielle Williams announced a $561,000 funding boost for up-to-date, industry-standard robots at the Stud Road campus on 4 October.
The extra equipment replicates an advanced manufacturing production line, helping to recruit and train an extra 50 students a year.
Essentially, it gets students up-to-speed with advanced manufacturing skills required by Dandenong employers.
In the past four years, Chisholm enrolments in the field have doubled to 150 across Certificate III to Bachelor's degrees.
"It shows the confidence in manufacturing as a growth sector.
"The perception that it's dying is turning on its head."
Ms Wiliams said the project would "play a key role in ensuring we have the skilled workers Victoria needs for this growing sector".
"Supporting regional and specialist training at TAFE is vital to ensuring people have the opportunity to train and get a job in their local community."
She added the Government had invested $172 million in making 30 priority TAFE courses and 18 pre-apprenticeship courses free, with no tuition fees.
Chisholm chief executive Rick Ede said advanced robotics and coding skills were key to a competitive, highly-skilled workforce.
"This funding means that more of our students are going to be trained with the skills they need to get a job right here in Dandenong.
"By working closely with the South East Melbourne Manufacturing Alliance (SEMMA) and other local organisations, we're ensuring that TAFE and industry is working closely together to address the challenges we face."