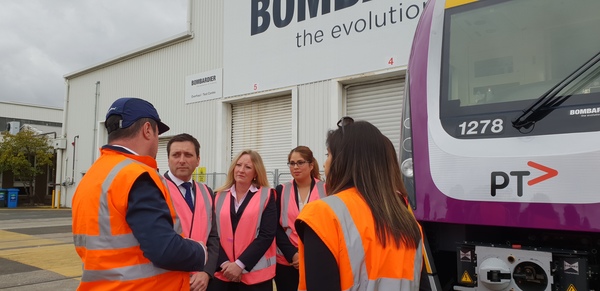 By Cam Lucadou-Wells
Bombardier Transportation and its 400-strong workforce are in line to build a proposed fleet of high-speed regional-network trains, says Opposition leader Matthew Guy.
Visiting the Dandenong factory on 4 October, Mr Guy committed to the fleet being made in Victoria and Australia with a 70 per cent local content benchmark.
He said Bombardier was a "perfect example of a product that has been produced in Australia to Australian conditions".
"We can make the next generation of trains in Dandenong, in Victoria."
As part of a $19 billion Coalition plan, the double-decker trains would achieve speeds of up to 200km/h on upgraded regional tracks, halving speeds to Melbourne on the Gippsland line by 2022.
It would facilitate the Opposition's decentralisation policy to ease Melbourne's population boom by enticing people into regional cities.
"The South-East growth corridor has got a population that is bursting," Mr Guy said.
"Casey-Cardinia as a combined region (is) growing by a similar amount as the metropolitan area of Adelaide."
The best way to take the "population pressure" off Casey-Cardinia was to provide a faster service between Melbourne and Warragul, Traralgon and the La Trobe Valley, he said.
"We've got to find ways other than jamming people in the current urban growth boundary. And the best way to do that is to decentralise."
Mr Guy said he was "very confident" the Gippsland line could be upgrading within the $19 billion costing.
Bombardier managing director Paul Brown said the company had existing technology running in Europe to deliver the high-speed, double-decker fleet.
He welcomed further "long-term orders" to sustain the factory's workforce.
"We'll be confident to get those deliveries(by 2022) depending on what the specifications and requirements are."