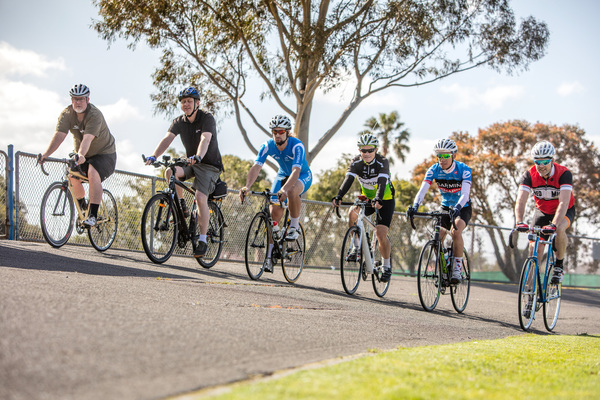 By Cam Lucadou-Wells
The hotly contested fate of Maurice Kirby Velodrome in Noble Park will be known as soon as the end of October.
In recent months, cyclists have mounted a showdown with Greater Dandenong Council over its preferred demolition of the track at Parkfield Reserve.
The council insists no final decision has been made on its draft reserve masterplan which would replace the velodrome with soccer pitches and a shared path.
Springvale cyclist Kym Nguyen has doubts over Greater Dandenong Council's three-step community consultation.
In the absence of a cycling club at the track, Cycling Victoria nor Maurice Kirby's family were sounded out about the demolition, he said.
At a recent meeting with him, council officers refused to discuss the track, he said.
"We're left with a situation where literally nothing can be done because they've shut their doors."
The 'Save Noble Park Velodrome' group argue that a $75,000 resurface is all that's needed to repair the asphalt track.
Missy Kempster regularly walks her pram around the velodrome. She had been unaware of the planned demolition when Star News met her at the track on 10 October.
She disagreed with Greater Dandenong's claim that the velodrome was largely disused.
"That's not right. On any given weekend, on any given day, you'll see people using it.
"A lot of mums walk around the track while the kids play on the grassed area (inside the track)."
The velodrome is named after legendary bike-shop owner and sports commentator Maurice Kirby, who founded Pedal Clubs of Victoria.
At a recent council meeting, Cr Roz Blades publicly assured that Mr Kirby would continue to be honoured at the reserve.
Mr Kirby's daughter Gayle George said there was "no way" her father would support the destruction of the track in favour of a shared path.
"That wasn't what Dad was all about.
"A shared path wasn't his concept of things."
At the velodrome, rider John O'Brien was amazed he didn't know about the track until the protest campaign several weeks ago.
"It's a very casual velodrome because it doesn't have a massive bank on it. You can teach kids how to ride without any cars around.
"It's a piece of infrastructure that should definitely be kept."
State champion rider David Koroknai, of Rowville, has ridden on the track regularly in the past nine years.
"I was training here even when riding at international level. It's always used."
The planned replacement gravel path would be "completely useless" for riding track bikes, he said.
Maree Davenport, the Liberal candidate for Mulgrave, used to ride the locally "unique" amenity as a kid.
"It's always been a safe place to ride away from the roads.
"It's in terrible repair but that's because of years of neglect by the council."
On 8 October, Greater Dandenong city planning director Jody Bosman said a formal report on Parkfield Reserve would be tabled for a vote within four to six weeks.
The council had engaged in a three step consultation process starting in December 2016, including website surveys and a postcard survey of all residents within a kilometre of the reserve.
The track did not meet Cycling Victoria requirements as a velodrome in terms of gradient, safety fences and a safe ride-off area, Mr Bosman said.
An estimated extra 46 soccer pitches and four cricket fields were required in the next 5-10 years but
there was also no "known demand" for competition cycling in Greater Dandenong.
There was no established cycling club in the municipality, and there were other suitable velodromes across Melbourne, Mr Bosman said.