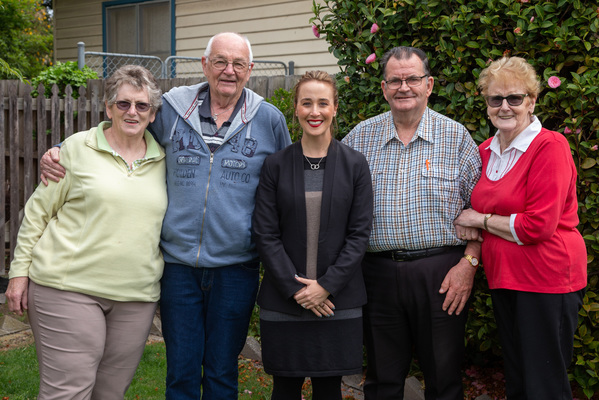 By Cam Lucadou-Wells
The sacrifice of unpaid carers is too readily overlooked.
Not that Greater Dandenong couples Faye and Graham Cain and Gary and Leonie Chirgwin would think of their care for their adult sons with Fragile X Syndrome over the past 50 years as a sacrifice.
"We love them as much as anybody does for their kids," Mr Cain says.
Ms Cain says she's been reluctant to send sons Damien and Raymond both with Fragile X Syndrome even into respite.
"I don't mind," she says. "They're mine."
They've endured ostracism from family and friends, as well as misguided hurtful advice from teachers and doctors.
Mr Chirgwin recalls a doctor telling him that son Adam would not live past 10 years old.
"He has just had his 50th birthday."
Adam was not 'meant' to be able to write but recently sent an email on his iPad to his father: "Hi Dad, How you going?".
"Just talking about it nearly makes me cry," Mr Chirgwin says.
Along the way, the couples have become supports and friends for each other.
Their sons have kicked on into employment and sports but things would have been easier with more access to support and information in the past, they say.
"No one came knocking on the door and said I've heard you had a handicapped child, this is what we've got available for you," Ms Chirgwin said.
There is an estimated 8000 unpaid carers in the Dandenong electorate, and 736,000 across the state.
They care for loved ones with a disability, mental health condition, chronic illness or are ageing.
Statistically, they are more likely to have chronic illness and experience social isolation, financial disadvantage and mental health challenges.
Ms Chirgwin used her nursing training to look after Adam, but her career fell by the wayside.
Getting back to work one night a week even made a world of difference. It was a form of respite.
Dandenong MP Gabrielle Williams is Parliamentary Secretary for Carers and Volunteers. Her mother grew up in a family of seven children – three of whom had intellectual disabilities.
Ms Williams was involved in a recent $50 million carers package by the Government that helps support carers financially and emotionally.
It includes 100,000 extra respite hours a year, expanding to carers of someone with a mental illness.
There is also half-price public transport fares, a $4 million boost for carer peer support groups and support for school students who juggle being carers at home.
Ms Williams said the peer support groups were important because the "best source of information and support for carers is often other carers".
"We reduce social isolation, connect carers to information sources and give them some downtime in a non-judgemental environment."
The package also targets young carers, often overlooked as carers of siblings or parents with special needs.
"They often carry a lot of extra responsibilities at home," Ms Williams said.
"Sadly, young carers sometimes go unrecognised in education environments, and they are often in need of more support to help them stay in school."