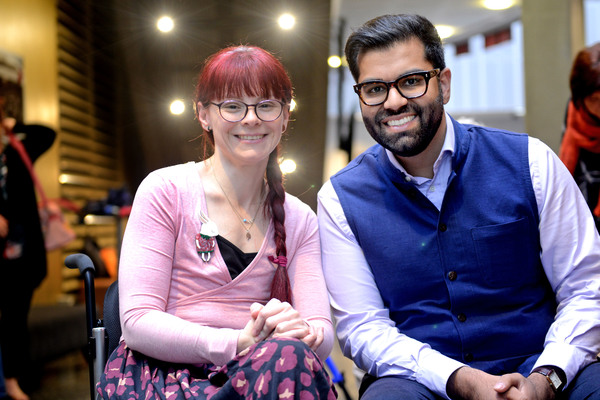 By Cam Lucadou-Wells
Two independent election candidates, both victims of shattering family violence, want to fix a "broken system".
Nicole Lee and Tarang Chawla are running as a 'bloc' of South East Metro independent candidates in the 24 November State Election.
Ms Lee has escaped a violent 10-year-long marriage, Mr Chawla's sister was killed by her partner in 2015.
Both say they were let down by authorities – and as a result, became advocates to fix the problems.
Soberingly, more than 50 women have been murdered across Australia so far this year. In Casey, family violence incidents are "astronomically high", Mr Chawla said.
Yet still coverage on the issue has been low on the radar this election, he says.
Ms Lee and Mr Chawla met at the state's Royal Commission into Family Violence in 2015.
"Tragedy brought us together but a deep desire to see real change and diverse representation is what drives us now," Ms Lee said.
"For myself I'm a woman living with a disability – I don't see people with disabilities in politics.
"How can we make decisions for the whole of the community when not all of the community is represented?"
Ms Lee said instead of being just "tough on crime", there needed to be more talk on better supporting victims.
She recalls being hospitalised due to injuries inflicted by her husband. After treatment, the hospital rang him to pick her up.
"I needed them to step up and help me get out of the situation.
"No one took any action and you have to ask why."
When the case went through the courts, Ms Lee felt "dehumanised".
"We become completely faceless. Your name is never spoken of – you're known as 'the witness'.
"I became no one while the focus was on the person who committed the crime."
The Victims of Crime Assistance Tribunal was also "broken", Ms Lee said.
"It wasn't worth going through for the compensation – the extra pressure and heartache to justify the trauma I've gone through."
Mr Chawla said for many women – like his sister – the signs of abuse are too readily ignored.
Her life may have been saved if her terrified calls to triple-0 had been better heeded.
Three months before she was killed, her husband had threateningly brandished a knife in the home.
"It's about services working together and properly identifying risk," Mr Chawla said.
The pair say they want to ensure each of the 227 recommendations from the Royal Commission are enacted in a strategic, planned way.
Mr Chawla says while 39 per cent of recommendations have been "ticked off" in two years, it's not necessarily making people safer.
"We have to stick to the plan that the Royal Commission gave us."
Ms Lee adds: "We need to not rush it but to get it right."
Mr Chawla said there were no family violence support hubs in the South East despite Casey's high incidence of family violence.
The nearest hub was in Frankston.
"You've got to drive across six suburbs in Casey to go there, or catch a train to Caulfield and then to Frankston.
"The burden we're putting on mothers trying not to be killed – it's too much."
There was also a lack of in-language groups to connect with diverse communities, Mr Chawla said.
"While our government has made some progress, they're missing the big picture.
"We have a voice and it's our duty to speak up."