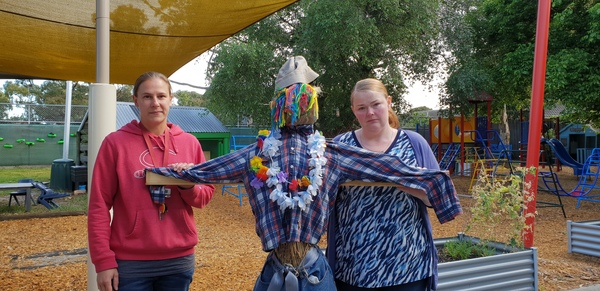 By Cam Lucadou-Wells
A Noble Park kindergarten's community has been rocked by heartless vandals who broke in and trashed the 50-year-old centre.
On the night of Monday 4 November, intruders ransacked the normally idyllic Heatherhill Preschool.
Most dangerously, a bloodied syringe was left inside the children's giant dollhouse in the garden. In the kitchen was a puddle of urine.
"The syringe makes me feel utterly ill – that you'd feel comfortable enough to shoot up in a kindergarten," volunteer committee head Amber Thornton said.
"You don't know what they're capable of."
For two days, staff and volunteers combed the grounds and the sandpit to ensure there were no futher needles. But parents were still questioning their children's safety, Ms Thornton said.
Staff think that the intruders forced their way through the back entrance using a hand-made scarecrow from the recently installed vegie patches.
The neatly arranged tables and chairs were upended, food cupboards were opened, and three iPads were stolen from the office.
One of the tablets had the only copies of photos from the centre's recent 50th birthday celebrations.
"The place was all vandalised. There was stuff everywhere," Ms Thornton said.
"They're disgusting, filthy things."
There was an attempt at forcing open a filing cabinet of childrens records as well as stealing the main desktop computer.
"It makes me sick that they could have got their hands on my child's information and every other child's in the preschool," Ms Thornton said.
"I'm so concerned that people think it's OK to do this at a kindergarten. I think the community needs to know.
"It's got to stop."
Co-ordinator Natalie Sideras said she was devastated and heartbroken after overseeing a flourishing kinder during the year.
There's been raised vegie beds and a covered patio area installed, as well as regular walks and excursions.
"It was horrible to see all the hard work we put in, to see it destroyed by – mongrels."
The kindergarten will be lobbying Greater Dandenong Council or its manager Best Chance Child Family Care for funds for security CCTV.
"We back out onto (Luxford) reserve. We need to look after the best interests and safety of the children, teachers and families."
Greater Dandenong CIU is investigating the burglary.
Any information to Crime Stoppers on 1800 333 000 or crimestoppersvic.com.au