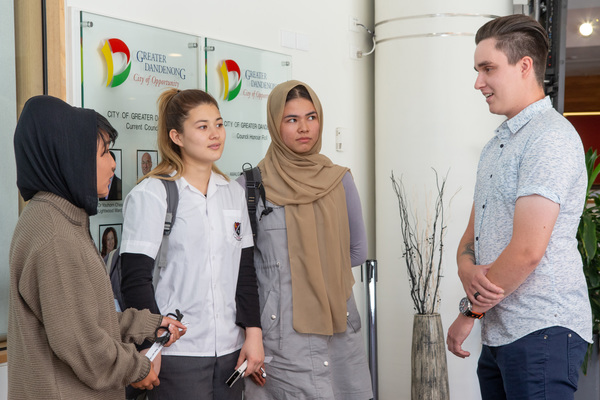 By Cam Lucadou-Wells
For young people looking for a role model, look no further than the very driven Pascal Neitzner.
The Berwick race-car driver and Ventura mechanic has had plenty of knockbacks but never lost heart.
His motto is persist and you will succeed.
Such was his steely resolve to stay toil hard and save, he owned his first house at 21 as well as paid off three cars.
Now at 22, he was the keynote speaker at a migrant youth employment forum hosted by the South East Local Learning and Employment Network (SELLEN).
"My biggest tip is be yourself, be humble and your interest in the job will shine through," Mr Neitzner told young job hopefuls.
There is no doubt persistence is needed for young job seekers.
According to census figures, Dandenong's unemployment rate is in double figures. Youth unemployment is about 15 per cent.
Several job seekers at the forum told of the numerous job applications they'd made for little success.
Well, as Mr Neitzner revealed, he had gone through the same roller-coaster ride.
He told how he arrived with family from Germany as a four-year-old without a word of English.
But he was driven to learn, even while putting up with school bullying as he struggled to pick up English and maths.
When in his teens, he tried a baking apprenticeship before realising it was more of a "hobby" than a profession for him.
Mr Neitzner started VCAL not knowing what he wanted to do. He and his resume got knocked back "countless times" as he searched for a part-time job.
But he kept going until a Nando's restaurant gave him a shot. He rose to team leader, thriving on the responsibility.
Finding a mechanic's apprenticeship proved just as hard. He searched for a year before he was offered an auto-electrical apprenticeship by Ventura.
Grabbing the chance with both hands, he was awarded the BusVic Apprentice of the Year.
"I wanted to be the best apprentice I could be."
He's also followed his dream, rising to being a top-5 grade A driver in the Victorian Hyundai Excel racecar series.
His car is sponsored by Ventura, who he says is everything you could want as an employer.
"It's like a family environment.
"I love working (there)."