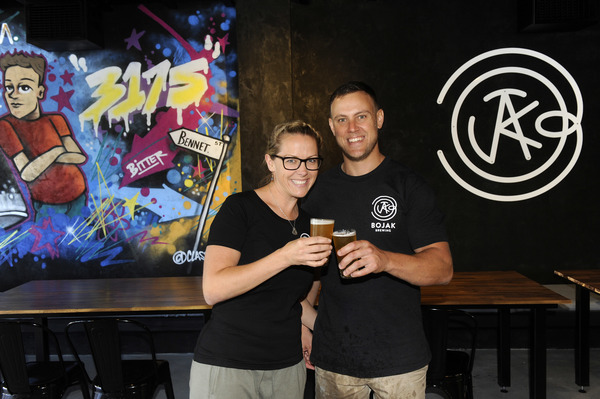 By Cam Lucadou-Wells
For many, making beer sounds like the perfect job.
Sue and Dale Messina have made poured themselves into the reality.
Their own craft brewhouse and bar BoJak Brewing has just opened opposite the Dandenong Showgrounds in Bennet Street.
The bar is an inviting cool cave of rustic recycled timbers and street-art murals.
There's four beers on tap and pizzas, local cheese and smoked-meat platters and kid's treats on the menu.
As well, there's locally-sourced wines, gin, Kaiju cider and a punchy 8 per cent-alcohol lemonade on offer.
Out the back is the lab, a shiny German Braumeister brewery where the yeasty magic happens.
Here Dale conjures a summer ale, an American pale ale dubbed 'Trump Card', a German-kolsch-style draught and an intriguing 'Calypso' hazy IPA imbued with passionfruit.
This menu will change with the seasons, with stouts unveilled in the winter.
A real point of difference is the take-away one-litre Crowler. Choose your beer and it's filled and canned at the bar.
It started when Sue gave Dale a home-brew kit for Christmas seven years ago. Things grew organically from there.
Guided by his palate, the meticulous Dale refined the art of beer chemistry.
Like most amateurs' first batch, it was average. But early on, Dale knew he'd love to make a career out of it.
"I loved creating something I enjoy – there's nothing better than that."
Then his recipes started winning awards.
So, Dale quit his job at the family construction business, and Sue left the courts as a police prosecutor.
And they took the plunge, converting the former warehouse into a spectacular drinking factory.
Having two young sons Beau and Jack – the inspirations behind the brewery's name – it was a case of now or never, Sue said.
"It's really nice to be doing something that both of us are passionate about."