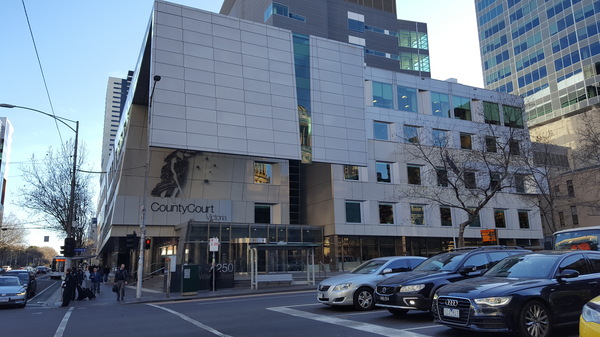 By Cam Lucadou-Wells
A man has been jailed for up to five years over a shooting at a child's birthday party in Noble Park.
Luke Morin, 27, twice shot a 29-year-old man in a car parked at the Dunblane Road home's driveway just after 9am on Sunday 12 November 2017, the Victorian County Court heard.
He had drawn a nine-millimetre semi-automatic handgun in his pants' waistband and pointed it at the victim's head.
During the attack, Morin punched the victim in the head and shot him twice in the legs. The co-offender also punched and kicked the injured victim numerous times.
It sparked a shootout at the eight-year-old's party as the victim managed to escape to a neighbour's property.
Morin and his co-offender took cover behind the car while exchanging gunfire with others at the property.
The victim and other witnesses did not co-operate with the resulting police investigation, the court noted.
Six days later, Morin apparently shot himself by accident as he pressed the same handgun to his temple at a Bentleigh address.
He caused himself a life-threatening brain injury and the loss of an eye.
Without recollection of the Noble Park attack, Morin since regarded himself as a "different person".
As a result of frontal lobe damage, he was cognitively impaired. He required multiple surgeries to repair his shattered skull.
His sister described him as calm and child-like since the wound. He was unlikely to continue labouring work, his chances of driving again were doubtful.
During his remand, Morin was hospitalised after he overdosed on his prescribed anti-seizure medication.
The accidental toxic dose was administered by prison authorities over several weeks in June.
In sentencing on 19 December, Judge Gabriele Cannon rejected claims that Morin's needs were too complex or authorities were too inept for him to remain in custody.
She described the Noble Park attack as "pre-meditated", "intolerable" and "terrifying" – something akin to the "Wild West".
"It concerns me that you were prepared to act in such a frightening and brazen way.
"It appeared to me that you had a great fascination and a great deal of enthusiasm for fire-arms."
Judge Cannon noted Morin's lengthy and relevant criminal history relating to weapons, drugs and violence, as well as the impacts of his brain injury.
Morin pleaded guilty to intentionally causing injury, reckless conduct endangering life and being a prohibited person in possession of a firearm.
At the time of the offence, Morin was on two community corrections orders.
He was jailed for five years, with a two-year and 10-month non-parole period.
The sentence includes 334 days spent in pre-sentence detention.