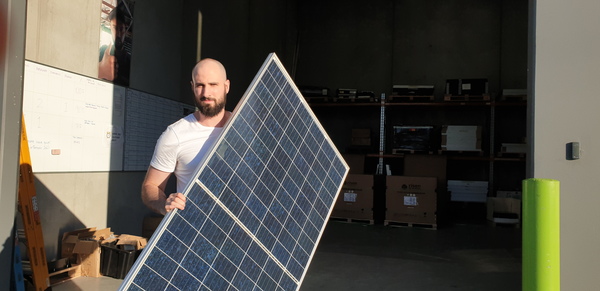 By Cam Lucadou-Wells
A freeze on the State Government's Solar Homes rebate program has left installers like Sky Energy in Keysborough in the cold.
Sky Energy director Samuel Kent said he lost all of his residential contracts "overnight" when the Government put a temporary stop to the scheme in late April.
Facing a dearth of business until the rebates resume on 1 July, the company has been forced to laid off 25 of its 40 full-time staff, Mr Kent said.
"We were on track to turn over $10 million this year.
"I can't thank my team enough for all that they have done and it breaks my heart to have to let them go."
Mr Kent said reputable installers were better off without the "boom-bust cycle" of an on-again, off-again rebate scheme.
"Dan Andrews said these rebates were designed to create jobs in Victoria and weed out dodgy solar companies.
"Instead they have achieved the exact opposite.
"Almost all our competitors use sub-contractors who they will dismiss until the rebate comes back in the future."
As a result, the company was now focusing on commercial sales in Victoria instead. It was looking interstate for home installations.
The Solar Homes rebates for the 2018-19 financial year were frozen because it was fully subscribed, the State Government argues.
It had committed 24,000 rebates up to 1 July, which extended to more than 30,000 due to the scheme's popularity.
The $1.3 billion scheme aims to install up to 770,000 solar systems on homes in the next 10 years.
A Government spokesperson said the program drove down power bills and created a "huge pipeline of work" for the industry.
It was being rolled out over "10 years, not 10 minutes" to ensure the "highest quality and safety standards in the country".
"We're now processing existing applications in the system and working with industry to complete the outstanding installations."
It recently announced Stan Krpan new chief executive of Solar Victoria to oversee the resumption of the Solar Homes rebate.
Mr Krpan told The Age that the $1.3 billion scheme would be designed so that the rollout wasn't "swamped" with orders, and that the agency would crack-down on shonky operators.
Solar Energy Installers Association Victoria chairperson Philip Smith said the industry had been blighted by stop-and-start rebates for 30 years.
"Either support a rebate program continuously or have no rebate at all – just make it stable."
Opposition energy and renewables spokesperson Ryan Smith said the Government had "bungled" the scheme.
"What solar installers need now is certainty around the Solar Homes package, not more unclear and indecisive policy on the run from the Andrews Government."