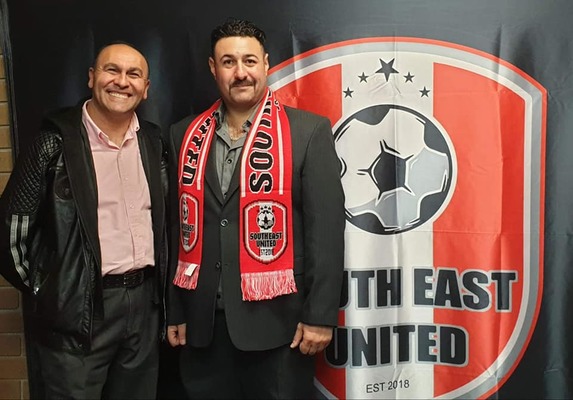 By Cam Lucadou-Wells
A fledgling soccer club that was ransacked during its first-ever weekend of games has been revived by a wide league of supporters, clubs and sponsors.
South East United FC hosted a joyous iftar dinner on 2 June, gathering together the many who supported the club in a bleak time.
"To see everyone who helped us in the same room – the unity that has created has been unbelievable," a grateful club chairperson Sinan Akkurt said.
Burglars had left little behind after they broke down the WJ Turner Reserve clubroom doors in Noble Park North in the early hours of Monday 8 April.
They swiped the brand-new club's player shirts, socks and shorts, soccer equipment, chocolates and $2500 raised the day before to support the club's families in need and to help players afford boots.
Even the club's fryer – its main source of income – was damaged beyond repair.
That night, the mens team had been out celebrating a magnificent 6-0 first round win – then Mr Akkurt got the dreaded call from police and broke down.
"A lot of committee members had sacrificed a lot of family time to get to this point," Mr Akkurt said.
"We hadn't yet paid for the uniforms (that were stolen) and we'd now have to order a new set.
"It was more the disappointment that anyone would do this to us.
"I just broke down and I thought it was all over. I thought we'd have to shut down."
But then Melbourne's soccer community rallied behind them.
Clubs including South Yarra, St Kilda, Morwell Pegasus, Hume United, Casey Comets, Brighton, and Malvern United as well as the Oakleigh supplier Only Sports were offering help.
In came replacement kits, playing equipment, a line machine, money and a fryer, pie warmer and bain-marie.
"The help has been so overwhelming," Mr Akkurt said.
"Even when we said we're back to where we left off, they've helped to even get us further ahead."
Mr Akkurt says the outpouring might be because South East United was a unique club.
It was set up as a "family club", not running for a profit but to help the community.
The club is a social hub for men, women, boys and girls – more transfixed on fun than getting wins on the pitch.
Since forming in October, the club already has five junior boys, mens and womens sides. There are plans for further sides particularly for girl players.
"We want our girls to get the same recognition as our men would.
"Our first women's team is made up of our wives. We said from the beginning if we don't have our wives involved, it's just another boy's club.
"We wanted a family club – not like where you're just getting drunk and swearing every weekend. We wanted to make it a home where kids feel safe."
It is also a low-cost club for talented youth who can't afford National Premier League registration fees of up to $2500.
In recent weeks, sponsor businesses have provided food and drinks for free clubroom dinners for its families after training. Many couldn't afford to otherwise go out for a meal, Mr Akkurt said.
"We grew up playing outside. The current generation of children are there on the iPad or telephone with their head in a game.
"We want them getting them out of the house, out of the bedroom and out creating friendships among them like we had.
"We don't worry too much about results, as long as at the end of the day you can smile, give a hug and say have a good day."