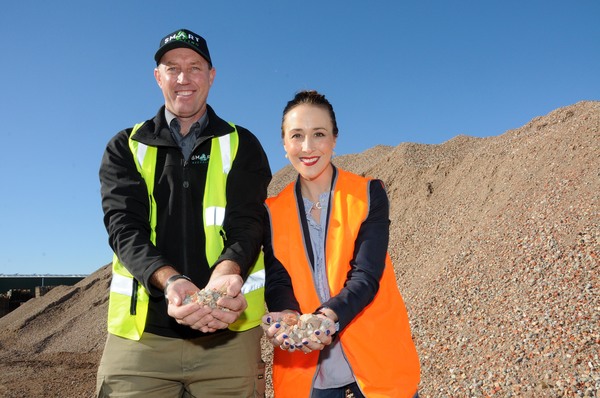 By Cam Lucadou-Wells
Dandenong South recycler Ward Petherbridge says recycling and advanced waste processing are both vital parts of the landfill-crisis solution.
Greater Dandenong is exploring the procurement of a waste-to-energy combustion facility, in response to the likely closure of SUEZ Hallam tip by 2028.
"Currently a large amount of waste is being transported day and night, through the tunnel and over the West Gate to the mega tips in Ravenhall and Wollert," Mr Petherbridge said.
"This is not a sustainable long-term option.
"The volumes will be too great and the roads are already congested enough."
The director of Smart Recycling visited combustion plants in China as part of a Greater Dandenong Council delegation several years ago.
His preferred solution is a high-tech combustion plant with mechanical biological treatment to sort recyclable and organic waste.
"This is a more expensive option and I suspect as with most countries, the cheapest and easiest option of straight combustion with energy recovery will be employed.
"There are small amounts of pollution produced, but the vast majority is captured within the emissions control system."
Mr Petherbridge said waste-to-energy was not a threat to recycling.
"It will always be more expensive to dispose of waste at a combustion facility, so the economics alone should protect 'viable' recycling."
However, he expected 'unviable' low-grade mixed plastic would be diverted into the combustion plant instead of recycling – until companies invested in washing and granulating facilities.
"It is vitally important that recycling is given priority over combustion.
"Measures may need to be taken by Government to ensure the less viable areas of recycling such as plastic recycling is assisted to increase available processing."
Reducing waste at the source was the best way forward, followed by re-use, then recycling and then recovery through waste-to-energy plants, Mr Petherbridge said.
The worst solution was to continue with landfill.
"It is simply burying the problem for future generations to have to deal with.
"Also landfills produce large amounts of methane, which is 24 times more potent as a greenhouse gas than carbon dioxide.
"Ironically, by combusting the waste and controlling the emissions, I think this is the choice of lesser evils."