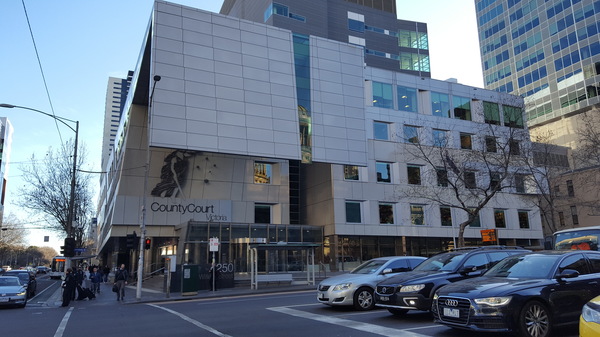 By Cam Lucadou-Wells
A man who broke into a unit and stabbed his sleeping estranged wife in the back has been jailed.
The 35-year-old was sentenced in the Victorian County Court on 8 July on charges of aggravated burglary and intentionally causing injury.
He had been found guilty by a jury.
On the morning of 20 April 2017, the victim had fallen asleep after her night shift as a care worker. She and her two boys were staying with her sister and brother-in-law in a unit in the Greater Dandenong area at the time.
She woke to find a hand over her mouth and felt a "sharp pain" in her back – like a long fingernail, she stated to police.
She turned around to see her ex-husband holding a bloodied knife, while her blood pooled on the bed.
The stab wound penetrated into muscle.
Judge Susan Pullen said the victim, as calmly as she could, told her attacker that it was all right. They should just go the hospital.
As they got out the front door, she ran to the refuge of a next-door neighbour and pleaded to be taken to Dandenong Hospital.
After surgery, she took more than two months off work.
Judge Pullen said it was likely that the accused had broken in through a kitchen window that couldn't be locked.
The weapon was not recovered. It was likely to have been a knife missing from the kitchen's knife block, Judge Pullen said.
At the time there was no intervention order against the man, no reports of previous violence and no criminal record.
Judge Pullen said the accused had not taken responsibility or shown insight into his action. He may remain a risk to his wife and any future ex-partner, she said.
Domestic violence was not tolerated by the community, the judge said.
"To enter anyone's home to assault them is a very serious offence."
Earlier that morning, the accused turned up in her bedroom trying to broker a reconciliation. After an argument, she told him to leave and walked him out the laundry door.
The Sikh ex-couple had immigrated from India in 2009. They were already wed by arranged-marriage.
While in Albany, the unemployed man left for Perth, effectively abandoning his family, Judge Pullen noted.
His wife and two sons moved to her sister's unit in Melbourne.
Before the attack, she had told the man she was willing to reconcile if he found a job and suitable accommodation for the family.
The man was jailed by Judge Pullen for up to four-and-a-half-years, with a three-year non-parole period.
His term includes 808 days in pre-sentence custody.
Immigration authorities may subsequently cancel his permanent visa, the court heard.