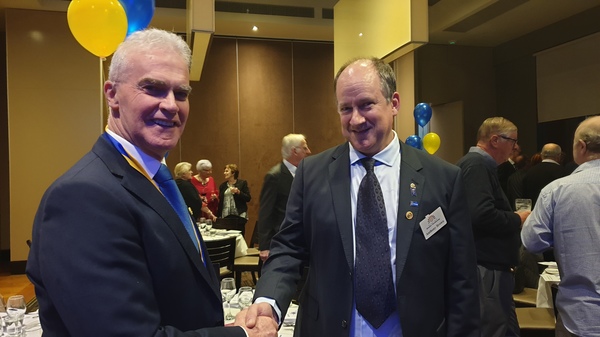 By Cam Lucadou-Wells
Local causes will be a special focus in the next 12 months, says Rotary Club of Greater Dandenong's new president Anthony Brown.
An example is the club's inaugural mental health forum to be held at Dandenong High School in August.
"It's a very important issue. We've recognized there's a need, and there's a lot of other deep-seated needs as well," Mr Brown said.
He told a changeover dinner at Sandhurst Club on 9 July, in which he was installed as the 2019-20 president, that the club would reinvigorate its youth projects.
The club was working with schools such as Dandenong West Primary School, Dandenong High School and Lyndale Secondary College
Worldwide, the Rotary theme of the year was "new generations", he said.
This indicated a "family-friendly" push to attract younger recruits by being more understanding of their circumstances. Many were time-poor and building their own careers, Mr Brown said.
At the same time, the club would be outward looking, open-minded and accepting of other people's views, he said.
It would continue to support great international programs such as the Sky Hydrant project that provided simple water filtration in Bhutan, polio eradication and fixing childrens' facial deformities in Cambodia.
Mr Brown was born and raised in Dandenong. He had operated his dentistry in Dandenong for the past 32 years.
Outgoing president Phillip Thurgood said the club had donated $44,000 to a long list of international and local causes in the past 12 months.
It included Australian drought relief, Sky Hydrants in Bhutan, Dandenong High School scholarships, glaucoma and polio readication and the Springvale Benevolent Society.