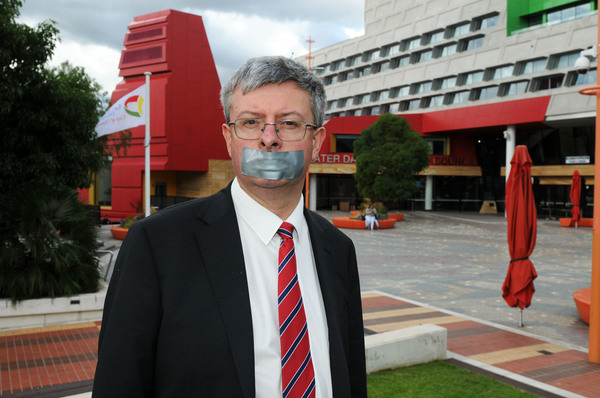 By Cam Lucadou-Wells
Residents have stirred against "anti-democratic" moves against online petitions, councillor question-time and direct resident participation at council meetings.
Of about 48 submitters, more than 20 presented their views to Greater Dandenong councillors at a public forum on 15 August.
They were generally of one mind against the changes.
One of them was Jim Houlahan who noted the forum was "curiously" the type of democracy that the council wanted to stamp out.
Cr Matthew Kirwan – who is seen as the target of a proposed 'gag' on councillors – told him: "We're only doing it tonight because the Local Government Act makes us do it."
Mr Houlahan said that for "you people to have balanced positions, you need to be listening".
"I get no sense out of those model rules that you're trying to enhance local democracy by listening."
He and other presenters derided the council's plan to limit currently "unlimited" councillor question time to eight minutes.
They also opposed the council's move to restrict rescission motions, and to ban change.org petitions as well as the public from asking their own questions directly to the council at meetings.
Ironically at the forum, the meeting's chair Cr Youhorn Chea had initially tried to wind up a submitter's presentation for exceeding five minutes.
After the forum, it's believed that the council proponents may soften but not eliminate the changes – such as limiting councillor question time to a slightly more generous 11 minutes.
Cr Sean O'Reilly says he is pushing for efficiency along with democratic "notions".
He said submitters showed that they deemed "the notion and practice of democracy to be of paramount importance".
"I think as a council, we shouldn't make questions only on notions, but also on how council can most efficiently deliver core services to residents."
Cr O'Reilly said he was moved by the "heartfelt" submissions to reflect on his own assumptions.
"Verbal submissions from the public remind me as a councillor to always remember that decisions we make should first and foremost benefit residents.
"There is still discussion to be had before we reach a final decision."
The councillor question time is widely seen as a move to target Cr Matthew Kirwan, who is renowned for lengthy interrogations of council officers during meetings.
Cr Kirwan said the objectors represented "people from across the municipality of different ages and cultures".
"The fact that so many people wanted to come out on a cold winter's night to passionately speak against these anti-democratic changes shows how bad the changes are.
"They wanted changes that make Greater Dandenong more open and transparent and encouraging more civic participation like allowing people to ask public questions themselves at public council meetings."
Cr Maria Sampey said the moves were a "form of bullying" and a "pack mentality" against Cr Kirwan.
"I think the council is going backwards."