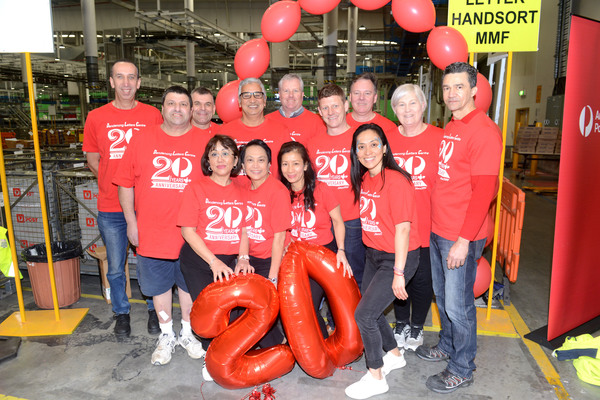 By Danielle Kutchel
Australia Post's Dandenong Letters Centre celebrated 20 years of service last week in a day that commemorated the past while looking to the future.
Family and friends of the facility's approximately 1000 employees joined in the celebrations on Saturday 26 October with face painting, balloons, a magician, caricature artist, photobooth and of course, cake.
The Rotary and Lions clubs put on a BBQ to feed the over 800-strong crowd.
Visitors were treated to a tour of the facility, guided by proud employees, and were able to see the technology that sorts the mail.
Around four million letters are sorted at the Dandenong facility each day, according to facility manager Rod Hoober.
"Pretty much every letter in Victoria comes to Dandenong to be sorted by machine and then redistributed," he said.
He said the facility is bigger than the MCG under its roof and contains about 30 pieces of mail processing equipment.
The Dandenong Letters Centre has been an employment hub for the region for two decades, and as well as mail officers, the centre also houses forklift drivers, technicians, the transport department and posties.
The celebration was co-designed with employees, who wished to hold an open day for families.
Many of those employees have worked at the centre for the entirety of the 20 years and have witnessed enormous changes in mail processing, from manual to machine sorting.
Traditionally, Dandenong has been a letter centre only. The last ten years have seen an enormous decline in the volume of letters being sent, however a new machine being installed at the facility later this year will see it gain the ability to process parcels too, taking advantage of the growth in e-commerce.
"The new machine will turn the fortunes of the facility around, it's shoring up the future," Mr Hoober said.
"The future now looks positive with the facility transitioning to parcel processing."