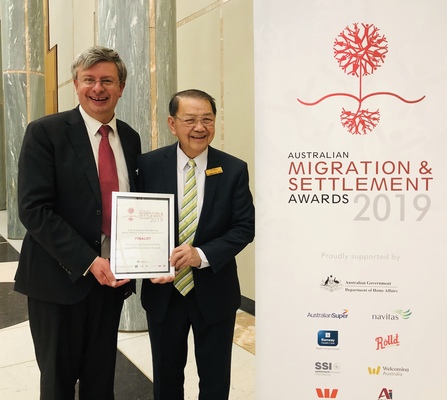 By Cam Lucadou-Wells
Greater Dandenong Council has been recognised in national awards for its advocacy against welfare cuts to asylum seekers in the community.
The council was a finalist in the local government category of the Australian Migration and Settlement Awards.
The nomination recognised the council's leadership in campaigning against the Federal Government's cuts to Status Resolution Support Service payments to asylum seekers.
The cuts potentially affected 8000 asylum seekers and families across Australia, including 2000 in Greater Dandenong.
The council formed a Mayoral Taskforce on the issue, gaining the support of more than 30 councils across Australia and creating the Back Your Neighbour campaign.
It also provided practical support to affected asylum seekers.
Mayor Youhorn Chea and councillor Matthew Kirwan attended the awards in Parliament House, Canberra on 23 October.
During the trip, the pair met with opposition multicultural affairs spokesman Andrew Giles, South East-based Federal Labor MPs Mark Dreyfus, Julian Hill and Clare O'Neil as well as South Australian Centre Alliance MP Rebekah Sharkie and NSW independent Zali Steggall.
They also met with an advisor to Opposition Leader Anthony Albanese.
They were not granted a meeting with any Coalition Government MPs.
At a council meeting on 28 October, Cr Kirwan said since the council began advocating on SRSS, families with children under six were excluded from the cuts.
Two state governments had announced financial support, including $3 million from the Victorian Government.
"However the future status and extent of that State Government support is uncertain, the
cutbacks continue and the impacts in terms of homelessness and poverty get worse," Cr Kirwan said.
The taskforce councils were "united in that this is unfinished business".
Cr Sean O'Reilly said the work was not costly when considering the "human cost on the streets of Greater Dandenong".
"I continue to get feedback from agencies in Greater Dandenong that these (SRSS) cuts are hurting … resulting in more people homeless and out on the streets."
Asylum seekers who are looking for work should not receive "nothing".
"They should at least get what they were receiving before, which was less than (NewStart)."
In opposition, Cr Tim Dark said it was right for the Federal Government to put a cap on the SRSS program.
Only those who were "job ready" were being cut from SRSS payments, Cr Dark said.
He reiterated the Government mantra that the "best form of welfare is a job".
"The Government has agencies to get you a job.
"If you need a job you can get a job."
Cr Kirwan later said that Cr Dark was being "factually incorrect".
General employment providers don't assist people seeking asylum to find jobs, he said.
"Finding jobs for people seeking asylum is hard as there are not just the usual barriers for new migrants (such as) language and skills.
"But also the reluctance of employers to take on employees whose status in Australian is so uncertain.
"They could be deported at any time."