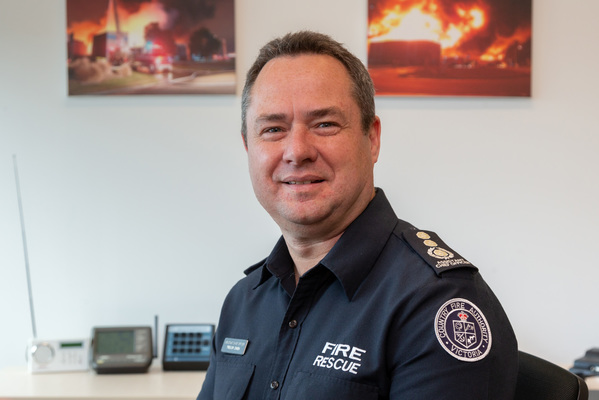 By Cam Lucadou-Wells
Danger lies in the healthy grass fed by spring rains, says CFA Assistant Chief Officer for the South East Region Trevor Owen.
The lush, tall grasslands are expected to quickly dry out to a fire hazard within a few weeks, Mr Owen said.
By mid-December, the fire season has well and truly kicked in the South East.
The region crisps up to the most perilous period in February-early March.
This summer will be a particularly nervous one for residents hit by the devastating Bunyip State Park fires in March.
Outside of the areas directly burnt, the fuel loads remains high in surrounding forest at Maryknoll, Garfield and Bunyip, Mr Owen said.
"Bunyip is still a risk for us.
"Anything that starts on that northern face of the forest will quickly spread."
Even in the suburbs, some of the parks and reserves carry high fuel loads of trees, shrubs and grass.
Mr Owen advised residents concerned by tall grasses and overhanging trees and shrubs in reserves to contact their local council or Forest Fire Management Victoria.
"If it it's dry, the fire can spread very quickly. If it gets to a fence, then it catches fire and soon the house is on fire."
'Being prepared' is again the key message for residents. The preparation needs to happen now, not on the day of the fire.
Mr Owen offers key advice for rural residents in the lead-up.
Such as to cut back shrubs and trees to allow clear gate access for fire trucks.
Also to remove mulch from around the base of homes, maintain sprinklers and water pumps in working order, get appropriate hoses and remove leaves from roof gutters.
If not prepared, don't expect fireys to save your property – especially in a high fire-risk area on a severely hot day.
When fires are big and "running hard", the priority is to stop them getting bigger and impacting even more property, Mr Owen said.
"Areas of high fuel loads of trees and shrubs aren't defendable on a really bad day.
"You can't expect fire fighters and volunteers to put themselves in danger to protect a property that they are unlikely to save anyway.
"Last season, people's assumptions were that we would.
"People need to accept responsibility and do what they can to protect themselves, not assume that a fire truck will be there.
"You should plan for a fire truck not being there."
As hard as it is, the best decision may be to leave earlier in the day. And to accept your property might not be there on your return, Mr Owen says.
"I'd be advising people if they are not prepared, go out in the morning and return in the afternoon if it's a safe option.
"What's more important is your life."