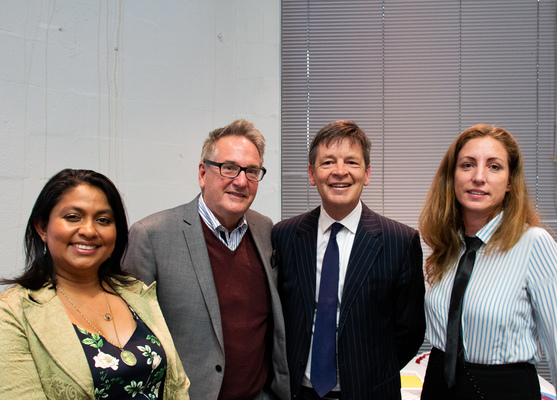 By Cam Lucadou-Wells
Child Protection Minister Luke Donnellan has spoken out on the soaring numbers of "low level" prisoners in Victorian jails.
Speaking at the Springvale Monash Legal Service AGM on 6 November, Mr Donnellan noted that 40 per cent of people leaving out-of-home care and foster care were falling foul of the criminal justice system.
Part of the solution was therapeutic family intervention, to stop the flow into child protection and to keep families together, Mr Donnellan said.
He was concerned with the "massive increases in incarceration rates over the past 10 years".
"There's work going on at the moment on how do we divert men and women, for argument's sake because a lot of it relates to domestic violence, out of the criminal justice system."
In this case, jail was an "incredibly difficult way to house an issue".
"Well it's a stupid way to house an issue to put it brutally.
"You're just housing something and spending a lot of money doing it.
"We need to work as a Government to reinvest in the justice system to ensure that in many ways we're not criminalising people with low levels of violence and who have been subject to the trauma of domestic violence being perpetrated on them in the first place."
The next day, the state's Crime Statistics Agency released figures showing women prisoners had risen to 838 in 2018, more than doubling in the past six years.
Four of 10 women prisoners were victims of family violence. Half of female prisoners were victims of crime.
Mr Donnellan said children in out-of-home care were at particular risk of being unnecessarily criminalised.
For example, when a child breaks a window at their out-of-home dwelling, they can be reported to police.
"That can be their first interaction with police," Mr Donnellan said.
"You're criminalising young people who have serious issues of disadvantage, not living with parents and are in out-of-home care."
If they were at home with their parents instead, they may be sternly reprimanded. They would be told "you're a bloody ratbag, don't do that again".
"But you certainly wouldn't take them down to the police station.
"We don't certainly need to be criminalising young people who have had high levels of social disadvantage and then be punishing them all over again because they've ended up with parents who are not equipped to be actually great parents, to be honest.
"In many ways that's why we need to stop that cyclical treatment going from generation to generation and the harm that actually does."
At the meeting, the community-based Springvale Monash Legal Service reported a near-doubling of family violence order cases in 2019 – up from 867 to 1553.
The expanding free-legal-advice service is set to open an extra branch in Narre Warren in December with outreach services in Pakenham and Doveton.
The service also now provides full-time family violence duty services at Dandenong Magistrates' Court.
A Sporting Change program was launched to legally educate students through sport at secondary colleges in Pakenham, Cranbourne East and Narre Warren.