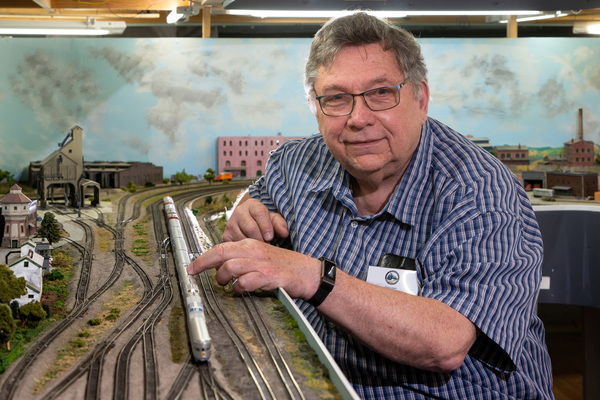 By Cam Lucadou-Wells
After years in a hall jam-full with signals and trackscapes, a model railway club may be forced to change stations.
The Waverley Model Railway Club Men's Shed has nestled into its home in Carlton Road, Dandenong North for 19 years.
The 60-member club itself will be marking its 50th anniversary in 2020.
"For the most part, we're retired guys," president Martin Jones says.
"We have engineers, electricians and even a doctor. One has been designing plastic parts on a 3D printer.
"We've drawn together with different skills."
Of course, their common passion – and the source of many factual disputes – is trains.
Four times a week, they turn up to run trains on multi-tiers of tracks. They maintain their 12-volt electric tracks, build wagons and carriages and create meticulous scenery.
Among them is Bob Evans, one of the four co-founders of the club in Glen Waverley in 1970.
It was originally envisaged as a juniors club.
"The children came for a while then they seemed to lose interest," Mr Evans says.
"So some of the parents came in instead."
Since 1967, Mr Evans has been a volunteer driver on the Puffing Billy steam-train network. He retired from that plum job last year.
"I've always had trains since I was nine years old," the former Victorian Railways and V-Line train driver said.
Mr Evans doesn't have a particular favourite from the members' collections of "hundreds" of trains. "They're all prized by me," he says.
"We bring all our trains from home.
"If I come down, I pick up a train to run by random – whatever fits my fancy on the day."
The club is a trove of knowledge about Australia's railways, he says.
"We have very knowledgeable people who are train spotters.
"We argue about all sorts of things about trains – like where the actual trains ran in Victoria and Australia."
Coming up to the club's 50th year, it is encountering a crossroad.
Its landlord Scouts Victoria has signalled it wants its hall back, possibly within the next year.
"If we have to move, we have to know now," Mr Jones says.
"It will take us a year to move all of this stuff."
Greater Dandenong councillor Zaynoun Melham raised a motion for the council to either help in negotiations with Scouts Victoria or for the club to find a new home.
He said the "self-sufficient" group had invested about $20,000 in improvements at the shed, without any council grants.
"They're a great group of mates. And they do some great things.
"They have one of the best model train sets in the state, and we don't know much about them."