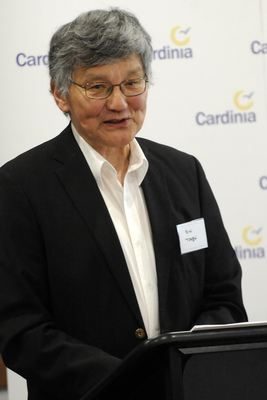 By Cam Lucadou-Wells
Three late community servants Tsebin Tchen, Max Walker and Barry Ross have been praised by Greater Dandenong councillors.
Former Senator Tchen, 78, was noted as a great advocate for the Chinese-Australian community, including the Springvale Asian Business Association for many years.
Mr Tchen, who was serving as a Victorian Multicultural Commissioner, recently died in a car crash in South Australia.
Greater Dandenong councillor Tim Dark told a council meeting on 9 December that Mr Tchen was elected as Senator in 1998, about the same time as "Pauline Hanson went on her rampage".
"He was very active in taking her on and ensuring the multicultural community lived in harmony."
Mr Tchen worked hard for ethnic communities' access to services as part of their "assimilation", Cr Dark said.
Cr Youhorn Chea also paid tribute, moving for a council letter-of-condolence to Mr Tchen's family.
A public memorial will be held for Mr Tchen in the Melbourne Town Hall on 18 December.
Pastor Max Walker was a founder of the Dandenong charity Cornerstone that has helped the underprivileged and homeless for decades, Cr Angela Long said.
He had been chief executive of the charity for 22 years, and Greater Dandenong's Non-Resident of the Year in 2010.
Cr Long, who'd known Mr Walker for more than 40 years, said he was a former player at Dandenong North Cricket Club.
Mayor Jim Memeti noted the "sad news". "Max … served Cornerstone for many years and served the needy in our community."
Barry Ross was an active member of the Defenders of the South East Green Wedge, who took a particular interest in Greater Dandenong's Green Wedge area, Cr Matthew Kirwan said.
Mr Ross was still advocating in recent weeks before he succumbed to a long battle with cancer, Cr Kirwan said.
"His passion, knowledge and hard work will be missed by many in the Greater Dandenong community."