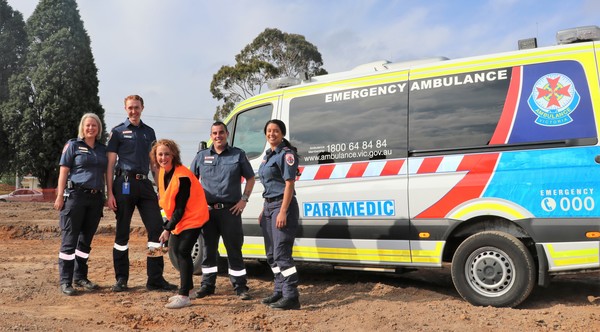 By Mitchell Clarke
A "cutting-edge" new ambulance branch in Dandenong is set to make a big difference for Dandenong paramedics, who are currently operating from a nearby CFA building.
Dandenong MP Gabrielle Williams visited the site on Stud Road, Dandenong on 19 December to turn the first sod, marking the beginning of construction.
The new branch will feature a five-bay garage for vehicles as well as modern facilities for paramedics including four rest and recline rooms, a kitchen, training room and staff car parking spaces.
The State Government boosted $299 million into the 2019/20 budget to deliver more paramedics, more vehicles and more stations, which is set to provide peace of mind for locals.
Currently, the average wait time for an ambulance to reach the scene of a Code One emergency in the City of Greater Dandenong is just less than 10 minutes, with 91.5 percent of ambulances arriving within 15 minutes – a positive increase from 84.7 percent in 2014/15.
Ambulances managed the largest ever number of emergency cases for the July to September quarter, with 78,130 Code One call-outs across Victoria – up from 69,753 a year earlier.
MP Gabrielle Williams said this new station will contribute to the improvement of response times even further.
"Ambulance response times were the worst on the Australian mainland, but we fixed that by investing more than any government in Victoria's history," she said.
"We are kick starting building works so that local families can rest assured that when an emergency strikes, life-saving paramedics will be just around the corner.
Health Minister Jenny Mikakos added: "We are putting Dandenong families first and building a new ambulance station to give paramedics the bigger, modern facilities they need to do what they do best – save lives."