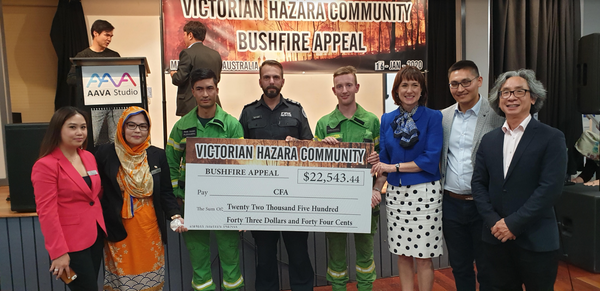 By Brendan Rees
They are survivors of war … so when they heard about the devastation of the bushfires it struck a chord with the ethnic Hazara community.
Regardless of their visa status, they opened their hearts to raise money for bushfire affected communities.
Some are refugees, Hazara Australian citizens and asylum seekers – but all were united to give back to a country "that provided us shelter and protection."
On Thursday 16 January, during a packed gathering at Doveton Hall, the Hazara community presented an honorary cheque of $22,543.44 to the Country Fire Authority and a further cheque of $133,477.56 to the Gippsland Emergency Relief fund.
The gathering was attended by political dignitaries including City of Casey and Greater Dandenong councillors as well as the State Minister for Small Businesses, Innovation and Trade, Aden Somyurek and CFA District 8 operations manager Jamie Hansen.
The donations were raised through campaigns and events organised by community delegates from across Victoria.
The Hazaras, who are native to the Hazarajat region in central Afghanistan, have fled war and understand the pain of facing destruction, poverty and losing loved ones, president of the United Cultural Support Inc, Sadia Ali said.
"We have come from a country that has been ravaged by war," she explained. "As a result, we understand the pain of our brothers and sisters in the bushfire ravaged communities who have lost their homes, businesses and livestock to the fire across the country.
"Our country Australia is hit by one of the most devastating bushfire. We stand in solidarity with our brave firefighters and affected communities to help support them rebuild and recover loss of precious native wildlife.
"We offer our condolences and sympathies with the families and friends during the bushfire crisis," she said.
Ms Ali added: "After fleeing war and persecution from Afghanistan and Pakistan, Australia became home for Hazara Community."
Members of the Hazara community have signed up for blood donations with Red Cross Australia and Hazara construction companies have offered their support to help rebuild homes and infrastructures in eastern affected regions.
The Hazara Community will be collaborating with wider communities in organising a multicultural food and music festival to raise funds to reserve the state's wildlife.