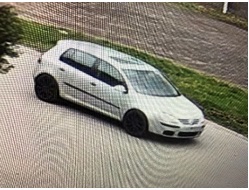 -
Police are set to release CCTV footage of two vehicles linked to a driveby shooting at a bikie gang clubhouse in the South East last year.
Shots were allegedly fired from a dark coloured Audi Q7 SUV as it drove past the Outlaws' clubhouse in Titan Drive, Carrum Downs about 7.45pm on Friday 27 September.
Several people were standing outside the property at the time of what was believed to be a targeted attack, according to Victoria Police's Armed Crime Squad.
None were injured.
An unmarked police car, which responded to the shooting, also came under fire as it passed the clubhouse.
The two detective senior constables inside were not injured.
At the time of the second shooting, a large number of people and vehicles were outside the premises, police say.
CCTV footage allegedly shows a person pointing a gun and firing several shots at the police car.
The SUV was allegedly abandoned and set alight on Hallam Valley Road in Dandenong South on Saturday 28 September.
Police say that CCTV images show the SUV and a silver VW Golf turning right from South Gippsland Highway onto Hallam Valley Road shortly before the fire.
The alleged offenders are believed to have left the area in the Golf after the SUV was torched.
Police say that the SUV was stolen from the Western suburbs earlier that month.
Any information on the shootings and the two vehicles, including the current location of the Golf, to Crime Stoppers on 1800 333 000 or crimestoppersvic.com.au