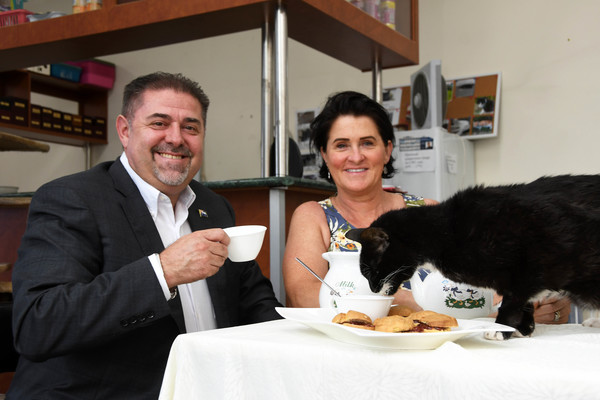 By Cam Lucadou-Wells
Residents of a feline retirement village lapped up the attention of Greater Dandenong's mayor during a special afternoon tea on 25 February.
Mayor Jim Memeti was paying a visit to Australian Animal Protection Society's Cat Retirement Village in Dandenong South.
The village is home to seven cats in their senior years, Billy-Jean, Precious, Topsy, Blacky, Cougar, Sandy and Molly.
They moved in after their owners either died or moved into aged care themselves.
In 1993, the village opened in Homeleigh Road, Keysborough out of the need for a "comfy and suitable" facility for bequeathed cats, an AAPS spokesperson said.
It is now housed at the society's temporary site in Dandenong South.
Meanwhile this summer, the shelter has been forced to refuse cat admissions due to an "inundatation" of unwanted litters of kittens and cats.
It is urging owners to desex their pets to curb the population catastrophe.
"Whilst our adoption figures have been good, just this morning a mother and five babies were left at our front gate bringing our numbers back to capacity," the spokesperson said.
"This is why desexing is incredibly important, especially if the cat is indoor/outdoor."