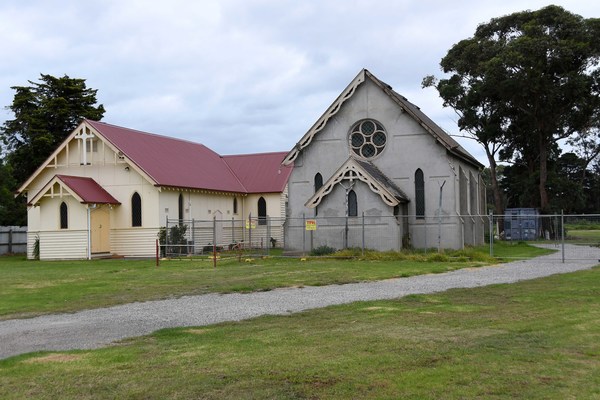 By Cam Lucadou-Wells
A "rare remnant" of Keysborough's 19-century heritage appears under ruin and under threat.
The Keysborough Methodist Church built at 176 Chapel Road in 1877 has fallen into disrepair behind a cordoned fence.
During recent years of neglect, its striking Gothic structure, coloured stained-glass windows and shingle roof have been noticeably marred.
Although listed as significant in Greater Dandenong's heritage study, the council is effectively powerless to compel the owner, the Uniting Church, to preserve the building.
Heritage overlay protections were only triggered when development or demolition was proposed, Greater Dandenong city planning director Jody Bosman told a 24 February council meeting.
"Unfortunately (the council) can't direct owners to protect structures from decay."
Under building regulations, officers could only order owners to make a building safe – which may require as little as cordoning off the area from public access, Mr Bosman said.
"Effectively there's no intervention that officers can make to prevent the building falling into disrepair."
His best suggestion was for the community to lobby the Uniting Church.
Councillor Matthew Kirwan said there were rumours the church was planning to let it decay until there was "no heritage value left".
At that point, under Victoria's "incredibly weak" heritage laws, the owner could simply "knock it down to build townhouses".
Cr Kirwan said it was important to stand up for one of Keysborough's "rare" historical buildings.
It is a landmark of what was one of South East Melbourne's first areas farmed by Europeans, he said.
"Built almost 150 years ago in 1877 this is rare physical remnant of the history of Keysborough and in particular of community life in Keysborough in the 19th century."
Dandenong and District Historical Society president Christine Keys said it would be a "grave shame" to lose the "only public building of pioneering status" in Keysborough.
She also noted the "old Foster" farmhouse and the former schoolhouse, both on Chapel Road, were effectively disappearing within housing estates.
Her ancestors, the Keys family, were trustees, fundamental in building and managing the church.
Its three stained glass memorials were installed in memory of John, William and Thomas Keys and their families.
A Uniting Church spokesperson said the building was "unsafe" and "neither used or needed" by its congregation.
"(The) building itself has no formal heritage standing.
"In its current state it has been deemed unsafe and would require a significant amount of money spent on it to change that status.
"The local congregation and the Presbytery of Port Philip East continue to look at options for the future of the site."
The neighbouring newer church building was however in regular use by the congregation and an associated charity, the spokesperson said.
"That building has had substantial repairs in recent years to ensure that it fulfills its current need."