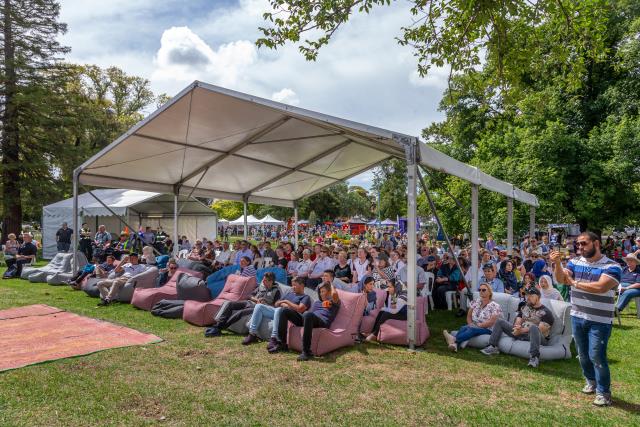 By Cam Lucadou-Wells
Greater Dandenong Council is persisting with a packed Australia Day events program despite Covid concerns.
Awards and citizenship ceremonies in Springvale Town Hall, a fun run at Dandenong Park and Summer Fun Day at Ross Reserve will continue as planned on 26 January.
'Covid-safe' restrictions – such as masks and proof of full vaccination/exemption at the Springvale indoor events – will apply.
Due to the impact of Omicron Covid cases, other Melbourne metro councils have scrapped Australia Day events.
Also cancelled are popular summer festivals such as the Springvale Lunar New Year event and the World Fare @ Night at Dandenong Market.
City of Greater Dandenong's services such as community care and libraries have been struck by staff shortages due to pandemic outbreaks.
In Greater Dandenong, infections recently surged to more than 3000 a week but have dipped in recent days.
As of 23 January, 244 infected patients were in Monash Health hospitals, including 17 on ventilators in intensive care. More than 100 Victorians had died with Covid in the past week.
A concerned councillor and public health researcher Rhonda Garad said the Australia Day awards event was "high risk" for health-compromised councillors and others, especially with no RATs provided.
"It's about foreseeable risk in the middle of a pandemic, and I don't know how the council can carry that risk.
"They can't guarantee our safety."
Mayor Jim Memeti said the Australia Day events will "definitely go ahead" if Covid outbreaks were "stable".
On staff shortages, he said the council was "doing the best we can to maintain and keep services".
"The whole state, and the whole country except for Western Australia has been hit hard.
"We've had to take it day by day, and go with the (state) Chief Health Officer's advice.
"Hopefully we've hit the peak (of the Covid outbreak). And most people will start coming back."
However, Cr Garad said overseas experience showed "wave after wave" of Omicron infection and re-infection.
"While this reinfection is so problematic from a public health view, we will also continue to have staff shortages."
The council's Springvale customer service centre has twice closed as a result of Covid-caused staff shortages, customer service executive manager Kylie Sprague said.
"However our customer service call centre continues to operate at full capacity as our staff are set up to work remotely as needed to serve our residents."
Despite staff shortages, the council was "prioritising" high-needs community care and meals on wheels services.
"To ensure that the clients most in need receive the necessary services while there are some staff shortages, we are prioritising personal care," Ms Sprague said.
"We have written to all our clients and they are understanding of the situation and appreciative of the efforts being made to maintain services where possible."
Dandenong and Springvale libraries are open on "slightly reduced hours", and Walker Street Gallery closed until 10 February "at this stage".
After several 'hybrid' meetings, councillors have resumed wholly-online meetings and briefing sessions.
Drum Theatre is staging shows within "Covid-safe guidelines". Aquatic centres remain open.
"The health and safety of our staff and the community remains Council's top priority," Ms Sprague said.
"We apologise for any inconvenience caused and thank you our residents for their patience and understanding."
The Make Your Move fun run starts from 7.45am on 26 January at Dandenong Park, followed by the council's awards in Springvale Town Hall at 10am and Summer Fun Day at Ross Reserve, Noble Park from 11am.