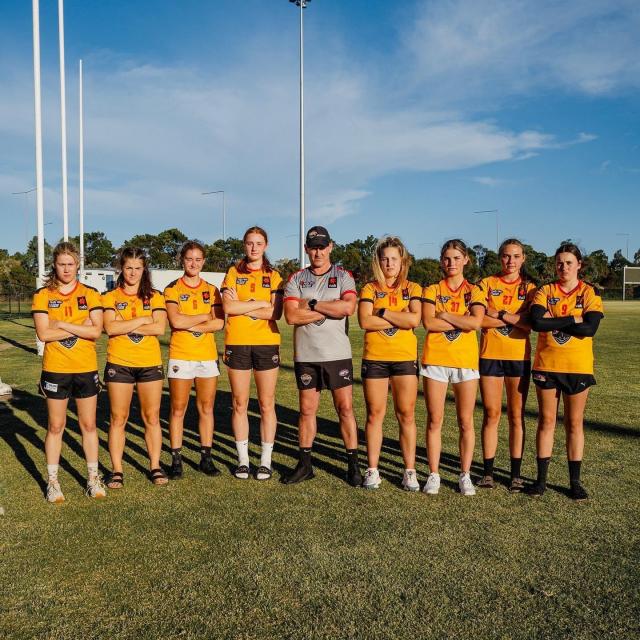 By Tyler Lewis
The ever-growing NAB League Girls season has arrived and it will feature 10 home and away rounds ahead of a bumper finals series.
The finals series dates are yet to be confirmed, but at this stage are just two semi-finals on the weekend of April 2-3, before the grand final the following week on April 9-10.
The first two fixtures, one of which begun yesterday, are earmarked as 'future rounds', with the under-16 sides going into battle in curtain raisers ahead of the under-18 competition.
And while the excitement is understandably bubbling, local club Dandenong Stingrays have drawn an unbelievably demanding draw.
The girls road trip to Geelong yesterday was made easier by the glamorous result, defeating the Falcons in style, 10.9 (69) to 3.3 (21).
After the trip to Geelong, the Rays are then also required to play in Craigieburn and Benalla, all in its first five outings.
Of the nine matches, the girls are currently holding two 'home games', which are being played at Frankston Dolphin's VFL ground, Skybus Stadium.
The Rays do not train out of their traditional home – Shepley Oval – over the course of their season, due to the cricket club making use of the ground.
But if they were to travel to each of the grounds they are playing at this season from Shepley Oval, it would be a whopping total of 1426 kilometres of travel to and from their fixtured venues for just nine games.
FIXTURE:
R1 January 23: Geelong Falcons vs Dandenong Stingrays (DUG – Deakin Uni, Geelong) 1:00pm
R2 January 29: Gippsland Power vs Dandenong Stingrays (CRR – Churchill Recreation Reserve, Benalla) 10:00am
R3 February 6: Dandenong Stingrays vs Bendigo Pioneers (HRR – Highgate Recreation Reserve, Craigieburn) 11:00am
R4 February 12: Dandenong Stingrays vs Murray Bushrangers (Frankston Park) 2:00pm
R5 February 19: GWV Rebels vs Dandenong Stingrays (MARS Stadium, Ballarat) 12:00pm
R6 February 27: Dandenong Stingrays vs Eastern Ranges (Frankston Park) 11:00am
R7 March 4: Sandringham Dragons vs Dandenong Stingrays (Trevor Barker Oval, Sandringham)
R8 March 11: Dandenong Stingrays vs Oakleigh Chargers (TBC)
R9 March 19: Northern Knights vs Dandenong Stingrays (Parade College, Bundoora) 2:00pm
R10 March 27: bye