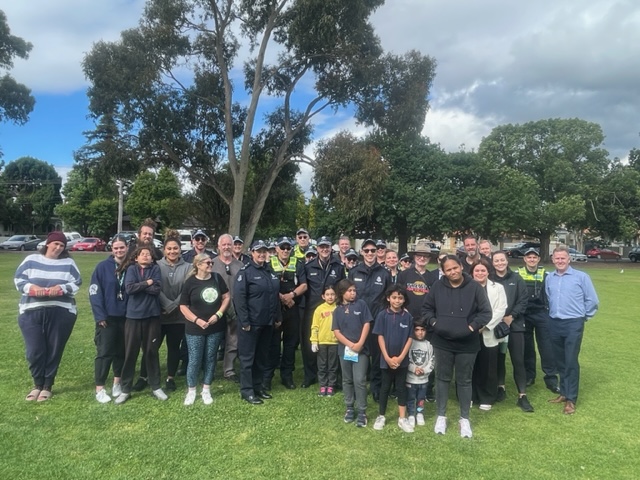 by Sahar Foladi
Victoria Police officers took a united walk against family violence with dozens of community members from Dandenong Park.
On Thursday 16 November, community members, families and members of the police force attended the walk from Dandenong to Doveton to raise awareness about family violence.
Superintendent Damian Jackson said the walk alongside community members showed support to those suffering in silence.
"Participating in those events are important in raising awareness that these crimes are simply unacceptable and highlights our commitment in calling out the crime both as police officers and members of community."
This participation comes ahead of the annual Walk against Family Violence in Dandenong's CBD on Tuesday 21 November from Dandenong Market to the Harmony Square.
Liana Papoutsis is the guest speaker, a dedicated social change advocate who has lived experience of surviving family violence.
Melanie Rowe, a former police officer with lived experience of family violence, is also amongst the guest speakers at the council's annual walk. She shared her story with Star Journal.
As family violence continues to be the "significant source of harm" to communities, these walks in solidarity with victims may be needed more than ever.
According to Mr Jackson, Victorian frontline police respond to over 93,000 family violence criminal incidents every year, meaning one every six minutes.
"Victoria Police has come a long way in developing its responses to these crimes, raising community awareness, challenging attitudes supporting violence, providing safety to victims and referring them to support services so they get the assistance they need."
Greater Dandenong sits at 2,652 family incidents so far according to Crime Statistics Agency (CSA) for the year ending in June 2023.
The highest for the municipality, 2,778 and 2,787, were seen during the Covid lockdowns in 2020 and 2021.
Compared to other municipalities in the Southern Metro, Greater Dandenong is lagging behind only City of Casey with a shocking 5,422 family violence incidents in 2023.
According to CSA, the 25 per cent increase in criminal incidents includes 821 breaches of family violence orders compared to 764 in 2022.