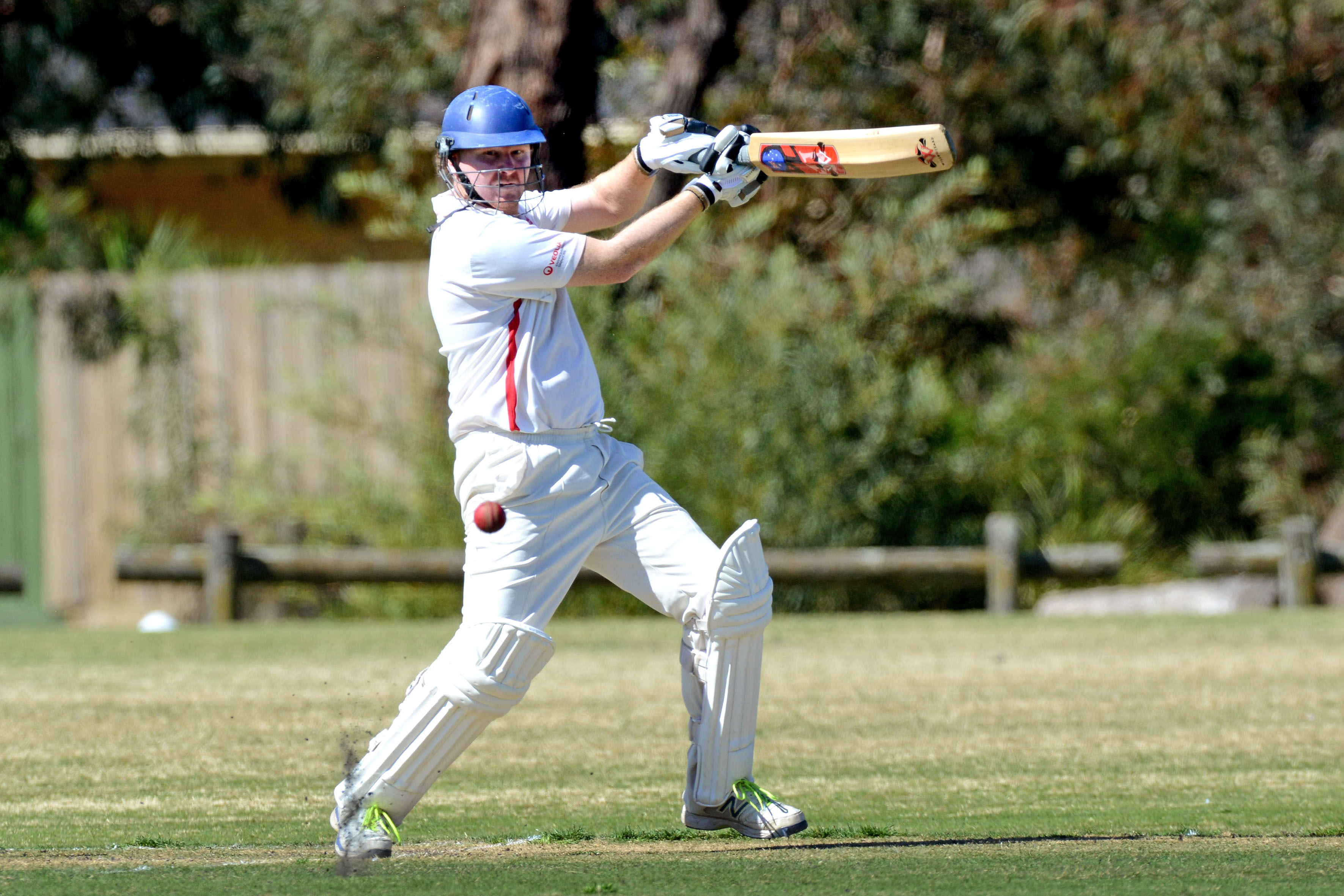 By Nick Creely
If the opening day of the DDCA Turf 1 season action was any true indicator, it would be safe to say that Springvale South are looking even more formidable than first thought.
While reigning premiers Mordialloc were without their superstars in Ian Daniel and Nuwan Kulasekera and had just one of their premiership bowling group available, the sheer dominance of the Bloods' batting group was evident from the outset.
It wasn't the most ideal start with opener Liam Hamilton falling victim to new skipper Dylan Campbell (3/67), who enjoyed a strong opening spell.
But aggressive opener Nathan King (61) was in no mood to simply see off the new ball, launching a tirade of sixes, and combined with Tim Ford (50), saw the home side quickly reach 1/90 as the lack of bowling depth for the Bloodhounds soon began a major problem.
King's highly aggressive nature eventually brought about his wicket, but it was an innings breathtaking from the beginning, and a brief fight back from the visitors as expected saw them peg the score back to a respectable 3/125.
That's until DDCA legend Steven Spojaric stepped up to the plate, combining brilliantly with returning all-rounder Jarrod Armitage to pile on 117 runs in good time, with Spoljaric carving 19 boundaries to the fence in a sensational performance.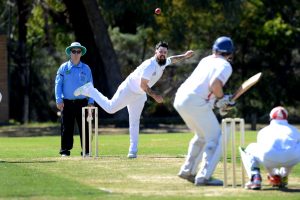 Arguably the greatest ever player in the competition's history, Spoljaric calmly passed yet another century, finishing on 107 before departing.
Spoljaric's – a five time Wookey medallist – shows no signs of slowing down at the ripe age of 41, and toyed with the Bloodhounds' fieldsman in a class display that has ominous signs of what he may achieve this year
Armitage's classy 38 and skipper Craig Slocombe's entertaining 37 – that featured two sixes – saw the Bloods reach 7/313 in just 61 overs, before a declaration gave the home side just under 20 overs to play with.
Brendan and Ryan Morris gave the Bloodhounds a fighting chance at stumps, helping the visitors reach 0/66 off 19 overs, but it will be a tough ask without Daniel and with the strength of Slocombe's bowling attack.
However, with the success of the Bloodhounds in recent years and with their incredible ability to rise to the occasion, it's certain to be a fascinating run chase on Saturday.
Berwick, meanwhile, got going after a slowish start to reach 7/250 at Arch Brown Reserve against North Dandenong.
The Bears didn't have it all their own way and at one point sat 5/106 with skipper and superstar Matt Chasemore back in the sheds after falling to spinner Akshay Ballal (1/86), before Nathan Pilon (58) and new recruit Brendan Rose (74 not out) helped steer the ship.
The former Casey-South Melbourne club champion brought his good batting form from his last season of Premier Cricket to compile a classy half century, striking seven boundaries and also combining late with Jack Phillips (33) to reach a strong total.
Muharjithan Thedchanamoorthy (3/68) stepped up from Turf 4 last season to open up the bowling for the Maroons as they inject a new group of bowlers into the competition, and was impressive as he picked up the scalps of Pilon, Jordan Cleland and Justin Bartlett.
The Maroons withstood a heap of pressure to get to stumps unscathed, and will resume with all 10 wickets in hand after Syed Mehmood (6) and Austin Heldt (11) got the visitors to 0/17 at stumps.
Overseas recruit Luke Davis, meanwhile, who last played for St Mary's in 2009/10, started his second stint with the Saints with a bang, carving 100 and helping his team post 7/283 against Buckley Ridges at Park Oval.
Davis' last stint at the club yielded just 37 runs at 4.63, but showed great maturity this time around to make the most of his opportunities against a class bowling attack featuring Andersen, Daniel Watson, Chanaka Silva, Greg Todd and Wes Nicholas.
Helped by a typically classy 76 by Ruwantha Kellepotha, the Saints – despite the best efforts of gun bowler Jurgen Andersen (4/52) – gave themselves a massive chance of upstaging the premiership fancies.
Andersen picked up two early scalps to have the Saints teetering at 2/38, but Kellepotha and eventually Davis superbly controlled proceedings, getting hold of the Bucks' slower bowlers to compile a massive total.
And Hallam Kalora Park racked up 7/257 against HSD at Reedy Reserve after an early stumble of their two biggest stars.
Ben Hillard and Leigh Booth were both back in the sheds early after opening bowlers Kaushalya Weeraratne (2/22) and Jackson Philpin (1/42) got the ball talking to snare the key pair, but star recruit Jaime Brohier (30) and Jagveer Hayer (64) got busy and rebuilt the innings.
Putting on 57 at a steady pace, the Hawks were able to continue to build partnerships throughout the innings, with star all-rounder Jordan Hammond (31), Ryan Hillard (69) and new skipper Ciaron Connolly (30) all providing strong contributions.
Declaring just before stumps, the Cobras are 0/9 after batting out the final five overs of the day.