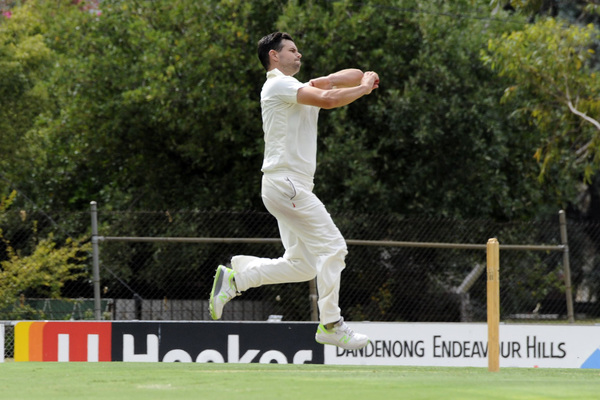 By Nick Creely
The challenge is set for Dandenong after an epic century to Melbourne skipper Matthew Brown on Saturday has given the Panthers a tough chase next week.
In a surprising decision, the Panthers sent the Demons into bat at the Albert Ground in the Victorian Premier Cricket clash, and after a solid start to the home side, the decision to bowl seemed the right call after a double strike had the reigning premiers in a strong position.
Blake Thomson (38) and Brown absorbed plenty of pressure to put together a 43 run partnership, and from there, batting just got easier for the Dees.
Despite some fine bowling by James Nanopoulos (3/68), Brown began to find his flow, taking apart the visitors' attack with a class display of batting.
With Jack Harper (49), Brad Melville (21) and Sean Sturrock (21) batting around the skipper, the Dees racked up the runs – particularly late in the day – to finish on an imposing 7/326 off 96 overs at stumps on day one.
Brown walked off the ground with a 157 brilliant runs next to his name, a knock that was compiled over 267 balls, and included 16 fours and three sixes. It's the first century by the champion skipper since his 2016/17 grand final century against Fitzroy Doncaster, ending a lean spell of rund.
The opening partnership of Tom Donnell and Brett Forsyth will clearly be the key for the Panthers when play resumes next Saturday, with the middle order of Lincoln Edwards, Ed Newman and Cam Forsyth also needing a lift if the visitors are to pull off the tricky chase.
In the seconds, meanwhile, the returning Peter Cassidy (99) fell narrowly short of a brilliant century in his return game as the Panthers racked up 9/340.
Cassidy – who will almost certainly force his way back into the first XI next round after returning from an extended time in the UK – combined with the talented Dane Heverin (75) after coming together at 6/143, putting on a brilliant 150 run stand that saw the home side reach an impenetrable position at stumps.
Josh Slater was also in the runs with a well made 65.