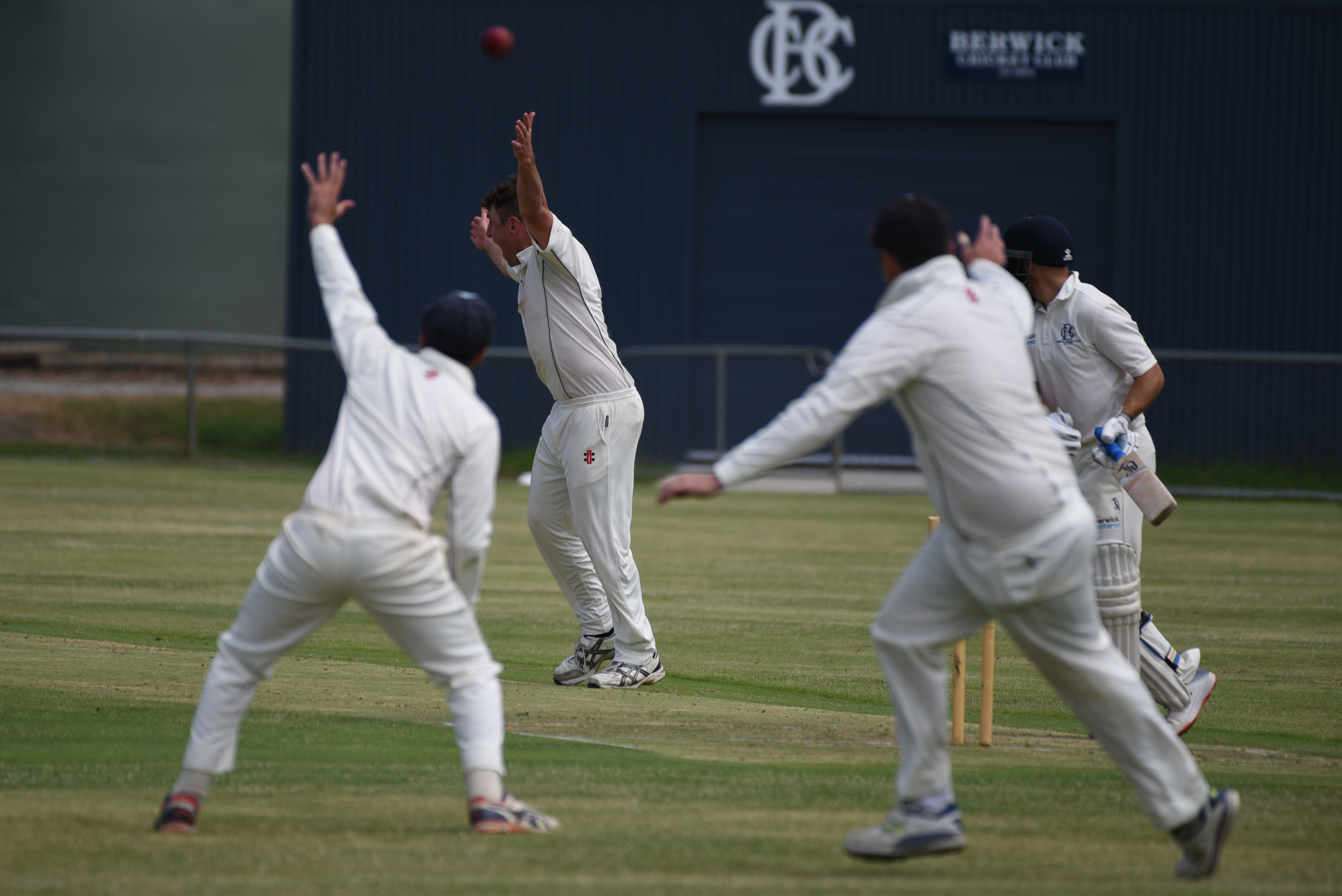 By Nick Creely
Absolutely dominance from ball one until stumps.
Premiership smoky Hallam Kalora Park enjoyed a golden day at the office, completely dismantling reigning premiers Mordialloc with precision at Ben Kavanagh Reserve.
While they've been sitting underneath the perch of heavyweights Buckley Ridges and Springvale South for most of the Turf 1 season, the Hawks have quietly been building a case as a legitimate premiership contender.
With the Bloodhounds back in form, and on their own home deck, the Hawks sent the home side in to bat, and it paid off…big time.
The Hawks – off the back of stunning performances from Jordan Hammond (4/20) and Leigh Booth (5/17) – completely shattered the top-order, middle order and eventually the tail in a dominant effort that saw the home side walk off with a lowly 65 next to their name in just 39.1 overs.
Incredibly, the Bloodhounds hit just two boundaries, both off the bat of Lochlan Davies (23), with the intense pressure applied providing too hard of an ask for a normally free flowing side.
Ben Hillard (44 not out) and Leigh Booth (32) secured first-innings points in a 73-run opening stand despite Nuwan Kulasekera (2/21) steaming in for the Bloodhounds, with the Hawks reach 3/91 by stumps as they eye a potential outright victory on Saturday.
Berwick, meanwhile, compiled a competitive total of 8/262 against ladder leaders Buckley Ridges at Arch Brown, but whether it's enough, well only time will tell.
In a really important game for the Bears' finals hopes, the Bucks – shaking off a tough week, where the future of the club was put in doubt – broke through with a wicket in the opening over, with superstar Daniel Watson snaring the scalp of in-form opener Jordan Cleland without troubling the scorers.
The Bears kept the scoreboard ticking along, with Nathan Pilon (79 off 75 balls) once again looking in ominous touch, while the likes of Josh Holden (39), Matt Chasemore (34), Jack Phillips (24) and Brendan Rose (32) all performing strongly to help give the home side a competitive total to defend.
Wily Greg Todd (3/29) was important all day to be the pick of the bowlers for the Bucks, who will also need his skill with the bat on Saturday.
With a batting side featuring names such as Daniel Watson, David White, Greg Todd, Susa Pradeep, Rajitha Jayathunga and Jayson Hobbs, it's certain to be a fascinating chase.
Heinz Southern Districts recovered from a slow start to post 203 against Springvale South at Alex Nelson Reserve.
The Cobras found themselves 4/63 after Steven Spoljaric (2/40 off 27 overs) bowled beautifully early on, but experience trio Kaushalya Weeraratne (43), Suraj Randiv (33) and Michael Davies (53) withstood the heat and surged ahead.
Continuing his fine form with the ball, tweaker Jarryd Straker (5/18) was the dominant player on the ground, rattling through the lower order to help contain the Cobras from inching towards a 250-plus total.
And North Dandenong (140) is engaged in a tight battle with St Mary's (0/18) after a tough day of cricket at Lois Twohig Reserve.
TURF 2
Saturday was Morteza Ali's day.
The Narre South star enjoyed his most dominant day of the season, helping set-up first innings points and a potential outright against St Brigid's/St Louis at Strathaird Reserve.
Ali snared brilliant figures of 6/47 off 16 overs to see the visitors rolled for just 88, after Scott Phillips (2/20) broke through to snare a wicket off the first ball of the match.The searing momentum from Ali the bowler to Ali the batsman was evident, with the right-hander helping the Lions cross the total with a dynamic 48 off 51 balls, a knocking featuring five boundaries and three sixes.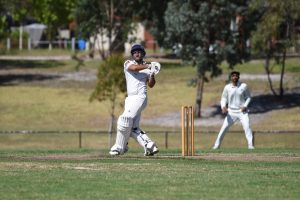 The Lions lost a few late wickets, but sit comfortably on 3/91 with Jawed Hussaini (16) and Jakeb McVicar to resume on Saturday.
Cranbourne, meanwhile, are in a strong position to snare a great victory after a strong opening day against Parkmore Pirates at Casey Fields.
The Eagles skittled the Pirates for just 122 after terrific bowling displays from Martin Kelly (3/41) and Jordan Margenberg (3/15), and got their way to 4/80 at stumps, needing just 43 more runs to secure the points.
Lucas Ligt (24 not out) and Tim Fathers (three not out) are the not out batsmen.
And Dingley's imposing form continued against Dandenong West at Souter Oval.
The Dingoes whacked 9/306 off 64 overs after being sent in, with Matt Hague (79) and Luke Spears (76) the architects after a 146-run opening stand.
The home side declared shortly after a late cameo from Calvin Barlow (60), giving the Westers a tricky hour to contend with.
Christo Otto (1/3) managed to snare a wicket just before stumps, with the Westers reaching 1/31 at the end of the day's play.
The match between Narre North and Narre Warren was postponed to Saturday as a one-dayer after a wet pitch prevented any play.
TURF 3
Beaconsfield is in the box seat to land a crucial win against Silverton at Fotheringham Reserve after emerging at stumps unscathed.
The Tigers restricted the Bakers to just 146, with Jake Cutting (4/25 off 21) and Jack Benbow (3/46) each bowling superbly.
Cutting – in particular – was in dominant touch, snaring three wickets in virtually quick succession to set up the day.
Brendan Johnson (14) and Ben Casey (7) handled the tricky 11 over stint before stumps to get the visitors to 0/21 at the end of play.
A stellar effort from Matt Goodier saw Parkfield inch close to claiming first-innings points in his side's clash with Lynbrook.
Goodier snared incredible figures of 5/30 off 20 overs to see the Lakers rolled for 116 despite a fine hand from Dinesh Vensilaus (38).
The Bears got to stumps 3/80 despite the early wicket of Goodier with the bat, with Travis D'souza (41) batting well for the visitors.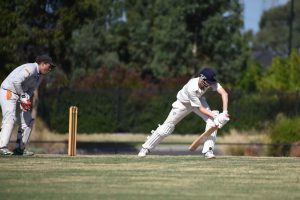 And Lyndale amassed a competitive 9/215 against Keysborough at Rowley Allan, but Keysie will be confident they will chase the total down.
The visitors were well looked after by Aaron O'Dath (56), Brendan Ash (64) and Yohan Soyza (43), while Daniel Banhidi (3/70) and Hennadige Fernando (2/49) bowled well for Keysie.
The clash between Fountain Gate and Coomoora will be played as a one-dayer after the pitch was vandalised, preventing any play on day one.