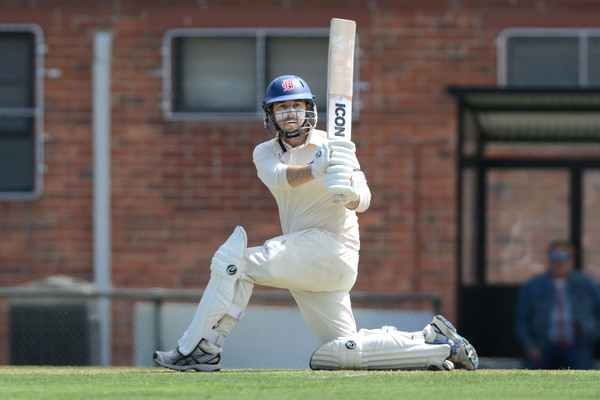 Brett Forsyth recently became the first Dandenong Panther to win the illustrious Ryder Medal as the champion player of the Victorian Premier Cricket season. He chats to Nick Creely about his record-breaking season, his love for the club and the ambition to play at a higher level.
"It's just about building a good culture, bringing in some good players, and making it all work."
Champion Dandenong batsman Brett Forsyth has gone from a cricket-obsessed kid riding his bike to training at Springvale South to a Ryder Medal winner with an incurable thirst for runs.
It's no mean feat; it's a culmination of how much blood, sweat and tears he has put in to succeeding in the game he loves.
His affection for Shepley Oval, his teammates and what cricket has to offer for the men and women in the south-east region is obvious – he's a player fuelled by his loyalty and passion for wearing the club logo.
At the recent Ryder Medal, the dynamic opening batsman – who could be eyeing off 10,000 Premier Cricket runs in the next few season – became the first Panther to snare the top-gong after a truly remarkable season that netted almost 1300 runs in the toughest spot for a batsman to shine.
He said it was incredibly humbling to receive an honour won by the likes of Graeme Rummans, Warren Ayres, Paul Collingwood, Trent Lawford and many more absolute champions of the game, and even more special as a Dandenong player.
"I guess you know you've had a really good season, but to edge (some stars of the competition) out was really humbling and almost a bit embarrassing at times," he said.
"The real reason we play is to win games of cricket and go deep into finals, so it's very different being an individual award, but I guess it sits a bit easier because I'm proud to win it as a Dandenong player.
"It's just a good reflection of the club and how we can develop players, not only over a long period of time, but a short period of time.
"I must admit, it's a bit of a different feeling."
Talk has fuelled over whether Forsyth should be playing state cricket, and rightly so – opening batsman with such consistency over a long-period of time don't grow on trees. But rather than focus on things out of his control, he is determined to remain grounded and focused on his job at hand next season.
"I wouldn't say it's changed anything – with my performance, it's always been at a level where playing higher could be a potential outcome, but I've seen the pitfalls from many players, myself included, and when you look at doing that, you can take your focus of what your primary job is, and for me, that's to score runs," he said.
"For me, (the Ryder) hasn't added any extra pressure on playing higher, it's just a positive that's it been spoken about, and I know a lot of other players have been spoken about for their performances.
"To be honest, I'm a teacher and I'm enjoying that career at the moment, but if anything were to come up, like all players, I'd take it with both hands, but I'm not expecting that to happen."
But Forsyth admits it would be nice if top-notch Premier stars could be given more reward at a higher level.
"I think anyone that observes Premier Cricket would have the same view point, and that's seeing players rewarded for performance," he said.
"That's current players, administrators, and those at club land – I guess Victoria is just so strong and have won so many titles since I started playing, so it's difficult to get home grown players playing state cricket.
"The talent is certainly there – you look at Aaron Ayre who gave up keeping to focus on his batting and scored 1000 runs, David King's record is phenomenal, and he's only played two state games.
"There are a number of batters, bowlers and keepers that could play at a higher level, but it's about the opportunity, so I guess it would be a frustration for some clubs that the best players aren't getting an opportunity."
Defending premierships are the hardest thing to do in sport, especially in a team game, and despite losing a semi-final to Fitzroy-Doncaster to end their defence; Forsyth said there was a lot to reflect on from a season that they could look on with plenty of pride.
"I guess you could call it successful – we had the Women's first XI win the Twenty20 premiership and fell a game short from the finals, and our men's firsts still found a way to win the Twenty20 grand slam and made their way to Adelaide," he said.
"When you look at that and with a few more titles even if they're the minor ones, would suggest that the year was successful.
"In terms of backing up the red-ball flag, it was tough to do – we had some players throughout the season injured and didn't want to play on this year. Darren (Pattinson) obviously retired so to get into the top four, that's fairly successful."
A strong culture – that all-important ingredient that brings successful sporting clubs from mediocre to revered – is one that draws Forsyth to his club, it's what has kept him at Shepley Oval throughout his whole young adult life.
That comes from the coaches, administrators, volunteers and players – it's a cohesive unit that works together for one common goal.
"What we've been able to do is get some really good coaches in place – the key to our club is keeping our more senior players at the club, because that means they can lead from the front on the field, but it helps to develop some off-field skills, whether that's at training, or just mentoring them," he said.
"I know a few clubs have mentioned that they're envious that we've been able to keep those mature players playing, so that's definitely helped.
"The coaches (Nick Speak and Paul Boraston) need to take credit for their work – they leave it up to the players to find ways to best develop, so the onus isn't on them, and it then creates a culture where everyone helps everyone.
"It's just about building a good culture, bringing in some good players, and making it all work – we probably have three different age brackets, and those groups seem to get on well and help.
"It's like an AFL list really, if they gel and all work well, it'll bring some really good results. With Liz Williamson, Gary Davidson, Mick Findlay and all the board off-field, they've made a huge effort to make it a great place to be. We don't have any barriers to stop anyone from progressing and performing.
"At our presentation night, a lot of players mentioned how it was like coming to a second family for them – just being able to drive through the gates of Shepley, with their friends, and enjoy their cricket and the challenge is important.
"We've had a lot of players in our history that come down at such a young age – I was there at 14, my younger brother was the same, Pete Sweeney was there at 13 or 14, so you grow up at the club. You go from being the youngest to one of the oldest.
"Everyone's really thankful for choosing our particular club."
On-field, Forsyth has established one of the most respected opening combinations with his captain Tom Donnell anywhere in the state, with the pair's deeds at the top not going unnoticed.
But to have delivered such consistency is a testament to the rapport they've built, and to the similarities and differences that make them tick and gel so well that they cause plenty of sleepless nights for opposition bowlers.
"He's a left-hander, I'm a right-hander, he plays the ball to different areas and I generally play to different areas, so that in itself compliments each other," he said.
"We both really enjoy the challenge of getting out there at the start of the game and putting our team in a really good position – if that means defending on a difficult wicket, or playing with a free licence and try and dominant the game from the first ball, we love the challenge.
"Our differences make us a good combination, but then we have similarities – we're both fairly even-tempered, and both just like doing the best job we can. Off-field, I've known him for close to 16 years, and spending so much time with someone, you really enjoy the successes.
"We get on really well, and our loves for the club make us work that little bit harder, and I guess we have that in common."
Forsyth – who is a Springvale South junior – said he owes a lot to the Bloods at Alex Nelson Reserve, describing them as yet another family for him.
"Winning the Ryder gave me the chance to thank my club, and also my home club, and that's something you don't get to do too often," he said.
"I was really lucky that I grew up around the corner from Springvale South. When I was younger I'd just ride my bike down to training four nights a week. That's where I started enjoying my cricket, and made me realise I could make something out of playing the game.
"I was lucky to have to great coaching from a young age – Danny Law would coach me during the week and give me tips that not a lot of six to 12-year-old's would get at that age, so I was lucky they took me under the wing.
"They gave me opportunities to play in a Turf 1 premiership at such a young age – one of the things that helped me when I missed the best of a season with a knee was being able to play Twenty20s at Springvale South.
"They asked me to be captain, and it kind of brought the enjoyment back for me after losing my State contract, and to play there and see how much fun they have, I guess it was huge in getting me back to playing the cricket I did before I was injured."
And a warning for all DDCA bowlers in the future, Forsyth has no plans to play anywhere else but the Bloods when he retires from Premier Cricket.
"I'm very thankful that I've been able to play there, and when it all finishes for me at Premier level, I'll be going there to play my cricket, and try and give a little bit back," he said.