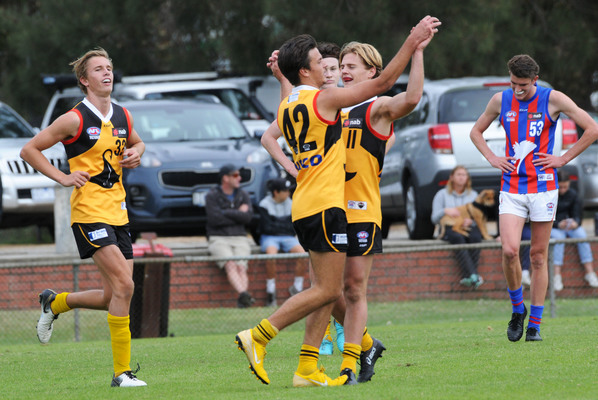 By Hayley Wildes
After the high of last season's maiden premiership and having a long list of stars drafted into the AFL system, many thought the Dandenong Stingrays would struggle to maintain their place at the very top of the NAB League, formerly TAC Cup, in 2019.
That thought has been put to bed, with the Rays absolutely flying out of the gates this season to be the form team of the competition.
Whilst the likes of premiership superstars Sam Sturt, Will Hamill, Bailey Williams, Toby Bedford and skipper Campbell Hustwaite have all moved on, the next generation of Dandenong guns have already proven they know how to continue on the tradition of tough and well-executed football.
Two names standout as having been absolute keys to Dandenong's fine start to the 2019 season; Hayden Young and Ned Cahill, and both will be massive as the Rays look to defend their crown.
Young is a likely top-five draft pick and his form has only solidified his name among the top under-18 players in the land. Averaging 23 disposals a game, Young is a key link between the arcs with his ability to hit targets with precision.
Cahill is an excitement machine who can impact the game in the forward line and midfield. He knows where the goals are and showed that as an under-age player last season, booting 13 goals in 10 games.
This year, he has taken on more responsibility and his game has risen to a new level. His time spent in the midfield sees him rack up disposals and bullock his way through packs, and when he heads forward, opposition defences are immediately put on notice with his speed, clean hands and smarts.
Young and Cahill have been on fire, but as is so often the case with Dandenong teams, it's their depth that shines through and more often than not leads them to victory.
Jack Toner, Jai Nanscawen, Luca Goonan, Lachlan Williams and Mitch Riordan have all been consistent contributors across the ground and with depth at every line, the Rays don't have a major weakness that teams can attack.
Riordan, who has returned to the Rays as an over-age player is showcasing he is still a force to be reckoned with.
He has nominated for the upcoming AFL mid-season draft and teams have clearly shown an interest as he is one of 22 players to have been asked to attend an AFL-run medical screening day – a sign that clubs are serious and want to learn more about him. The first ever AFL mid-season draft takes place on 27 May.
In further Dandenong news, six Rays have been named to the AFLW under-18 Vic Country squad of 29 players.
Tyanna Smith, Molly McDonald, Brooke Vernon, Zoe Hill, Isabella Shannon and Georgia Howes have all made the squad after impressive NAB League seasons for the Rays.
The national championships take place over June and July. Vic Country kicks off their campaign against Vic Metro on 22 June at Avalon Airport Oval, before heading to the Gold Coast in early July to play Western Australia, Queensland and the Eastern Allies (NSW/Tasmania).