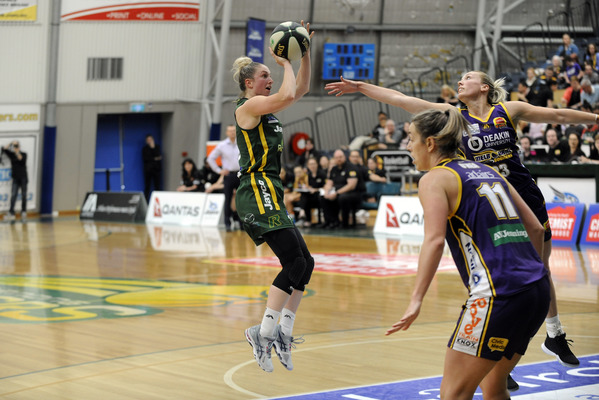 By Hayley Wildes
Dandenong Ranger Bec Cole has once again lit up the world stage, this time leading Australia to gold at the 2019 FIBA 3×3 Asia Cup in China, as well as taking home prestigious MVP honours and being named to the Team of the Tournament.
Cole, who has been on fire for the Rangers in NBL1 recently, was the star of the tournament which ran from 22-26 May with her trademark aggressiveness and speed helping her dominate 3×3 games.
When asked about her aggressiveness and whether that's a key to her game, Cole knows that's her bread and butter.
"I think that's something why you'd pick me on your team," Cole said.
"I'm powerful, I'm aggressive, I want to get to the rim and I want to play hard defence."
3×3 is fast-paced and with games lasting just 10 minutes, there is little time to settle in – that suits a player like Cole to perfection.
Heading into the tournament, Australia was seeded 8th in the world, but that meant little as they quickly stamped their authority.
The Australian team went through the tournament undefeated; taking care of New Zealand (17-15) and China (16-14) in tough and exciting pool games, before scoring wins over the Philippines (21-16) and Mongolia (21-15) in quarter-final and semi-final match-ups, respectively.
That set up a date with Kazakhstan and in a battle between two undefeated teams in the final, Australia absolutely took over.
The Australians jumped out to an early lead and never looked back, completing a gold medal run with a 20-9 victory. Cole recorded six points and eight rebounds in the final, seeing her tally for the tournament rise to an equal tournament-best 34 points.
Before heading over to China, Cole spoke about the Asia Cup being another great stepping stone for the Australian team as they look towards to the FIBA 3×3 World Cup from 18-23 June.
"[The 3×3 Asia Cup] is another good tournament we can use to keep growing, keep building and get some reps in us – I'm really, really looking forward to it," Cole said.
"The World Cup is in Amsterdam, so that's pretty cool, and we'll be playing a lot of good teams so it will be hard, but I think Australia, as a country, we've proven ourselves and now it's time to do it on the world stage."
With FIBA 3×3 Asia Cup gold around her neck and MVP honours to her name, Cole and her Australian teammates look set to make plenty of noise when the FIBA 3×3 World Cup kicks off later this month.
Whilst Cole continues to dominate the 3×3 world of basketball, her season with the Rangers in NBL1 has been nothing short of extraordinary.
Currently averaging a league-best 32.5 points per game, along with 5.1 assists (top-five in the league), 5.3 rebounds and 2.3 steals per game, Cole is an absolute monster on both ends of the court.
With a player of Cole's calibre leading the Dandenong charge, there's no doubt the Rangers are shaping as being a real threat at the pointy end of the NBL1 season.