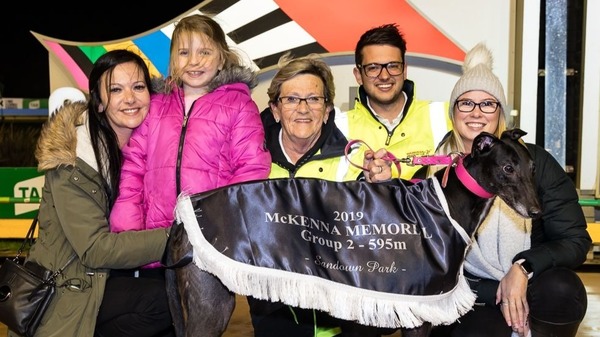 By Michael Floyd
'Often Imitated' claimed her first group race title at Sandown Park last Thursday night, turning in a dazzling performance to defeat a stellar line up in the Group 2 McKenna Memorial.
Often Imitated settled into third behind favourite 'Neo Cleo' and 'Black Impala', before charging through a closing gap between the pair to take the lead through the first turn.
The margin grew to three lengths off the back straight but the favourite soon made her move. Chasing her fourth Sandown Park group win since April, Neo Cleo closed the gap to less than a length as the pair turned for home but Often Imitated kicked again, holding off Neo Cleo to score the win by a length. Her winning time of 33.92 slashed more than two lengths off Lady Toy's race record.
"It was a terrific run because she didn't have it all her own way, she had to push her way through so it was really nice to see," a very happy Jackie Greenough said after the run.
"I thought Neo Cleo might run her down but she (Neo Cleo) did her best and she couldn't get her so I was very happy with that."
Often Imitated burst onto the racing scene 12 months ago with her first city win coming in the maiden final on McKenna heats night last year. She built an impressive record through the second half of 2018 before coming on season early in the new year, and Greenough believes she has returned a much better greyhound, having won five times and been placed twice in eight starts since resuming, including impressive wins over the sprint trip.
With a group win over 595m now under her belt, could we see the daughter of dual Sandown Cup winner Sweet It Is step up over more ground?
"I actually spoke to Kel (Jackie's husband, Kel Greenough) about this last night and he said she won't run 700m so she'll be sticking to the 600m." Jackie said.
While full of praise for Often Imitated's performance, Greenough was equally happy for owners Tyronne Whittington and Greg Sprod.
"It's a thrill for them. They live for their dogs and they just get so excited when they race, they don't care if it's a Melbourne Cup or a maiden at Cranbourne – they're just happy to win races."
The win was Often Imitated's 13th victory from 25 career starts and the $40,000 winner's cheque boosted her earnings beyond $110,000. It also completed a winning double for Greenough, with Ashley's Entity leading all of the way to win race 2, continuing a remarkable 2019 for Greenough who now has 22 wins for the year at the phenomenal strike rate of 61 per cent.
The Greenough greyhounds operation is a genuine family affair. In addition to her husband Kel, daughter Angela and grandson Bradley are also licensed trainers, and both were on hand to celebrate the victory.
The McKenna Memorial is named in honour of the club's first secretary, Jack McKenna, and is one of the club's longest running feature events having first been run in 1971.
Originally held over the stayer's trip, the race became the club's first feature event over the 595-metre distance and in the 10 years since, has been won by some of the sport's biggest names including multiple group race winners 'Xylia Allen', 'Irma Bale', 'Out Of Range', 'Lady Toy' and 'Flash Of Light'.