By Tyler Lewis
A positive day at Shepley Oval has Dandenong in a strong position at the end of day one against Kingston-Hawthorn.
The day couldn't have started much better for the Panthers with James Nanopoulos castling Hawks opener Matt Accocks second ball of the day.
Nanopoulos was in the action again as he got the Panthers second scalp of the day after an edge went low through to Edgeworth in the cordon.
At the other end debutant Locky Scott was pounding through the crease and bowling extremely tight lines, unlucky not to get an early scalp, and Scott went for two runs in his first over and proceeded to bowl four successive maidens afterwards.
Peter Cassidy came into the attack and bowled his trademark areas that allowed Jacques Augustin to take a superb diving catch to his right.
On the stroke of lunch, Suraj Randiv and Cassidy were bowling extremely tight, and with Sam Newell being bogged down at Randiv's end he started to use his feet, a moment for Augustin to get back in the game again with some neat glove work when one flew past the edge.
Randiv and Augustin combined once again before the umpires called lunch, putting the Hawks in all sorts at 5/43 at the break.
After lunch, the Hawks mounted a fightback, through youngster Nivin Sathyajith and Ramneet Dhindsa who put on 85 – albeit with some chances.
Sathyajith brought up his milestone on debut with a neat cut shot backwards of point before Randiv trapped him in front to open the door for the Panthers.
Scott and Gehan Seneviratne opened the floodgates and wrapped up the innings, leaving 167 on the board for Dandenong to claim its second win of the season.
With 21 overs to bat, 167 was a difficult figure to chase in such a short period of time without risk, but when Brett Forsyth and Tom Donnell got off to a flying the start, the total looked in early trouble.
Forsyth was sending the ball to the fence for fun in the first four overs, sitting on 27 from 21 balls as the brand new Kookaburra found an early home in the middle of his bat.
Donnell soon after joined the party, also racing to a run a ball to get the total to 0/48 after eight overs.
Shifting to 0/64 the Panthers were right on top, before Sathyajith claimed quick wickets to add to his already memorable debut.
Forsyth, Donnell and Lincoln Edwards all fell in a short period of time to halt the momentous Panthers batting line-up in making large in roads at the close of play on day one.
Skipper Tom Donnell was pleased with the start having the Hawks five down at lunch, but at the same time was slightly disheartened the middle session cost his side taking home the points at stumps on day one.
"It was a really good start, I couldn't have asked for much more," he said.
"We just needed to keep things rolling and the wicket flattened out a bit, it got a bit easier to bat, we probably let a couple chances slip which wasn't ideal but we just wanted to keep putting them under pressure.
"I mean no one ever means to drop a catch or anything like that but instead of them making 160 we might have kept them to around 100 or 120 which might have given us the opportunity to get them Saturday night.
"Those things happen, full credit to their batsman, they stuck at it and made the most of opportunities – we will just have to work harder this week."
Going at a run a ball in the early stages, it seemed the Panthers fancied their chances of chasing the target down in the 21 overs at the end of the night, but Donnell said it is just a mindset he and Forsyth have each innings to be positive with intent to score.
"We just went out there to bat as normal, as we do, however it comes, it comes," he said.
"We did want to be positive, that was always on the cards to look to score, we got off to a really good start.
"We would've liked to get a few more runs overnight but I think we are in a really good position to get first innings points and see where that can take us."
Locky Scott was a heart-warming story of the day, as his family watched on in the pavilion he steamed in with the new ball – Donnell believes he will be a consistent first XI bowler and although his figures of 2/27 from 14 were notable, was unlucky not to claim more.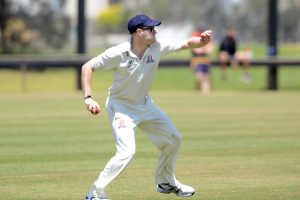 "He was good, I haven't been able to play with him a lot but he was impressive," he said.
"Hit some good areas, and was probably unlucky not to get an early wicket.
"He came back in his second and third spells and bowled really well, he finished the tail off which was pleasing.
"Hopefully he takes a lot of confidence out of that, seeing it as a stepping stone and only get better from there.
"He was good, it was great to have a fresh player in the side who was full of energy and good in the field – it was good to see."
Dandenong are 3/78 overnight with Comrey Edgeworth (12) and Ed Newman (1) both unbeaten overnight with a further 89 runs to chase for first innings victory before what looms as an entertaining remainder of the day.