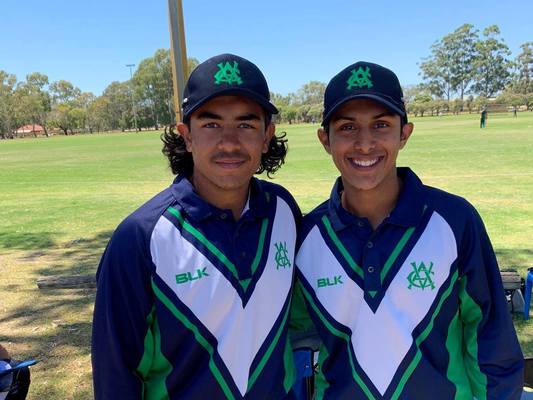 By Nick Creely
Now that Jonathan D'Rozario has had a taste of wearing the Victorian colours against the very best young talent Australia has to offer, all he wants is more.
More improvement with his batting and bowling, more camaraderie with his teammates, and more opportunity to showcase exactly what he's capable of at the elite level.
The 18-year-old Monash Tigers all-rounder and Buckley Ridges product has plenty of tricks up his sleeve, and after a successful Under 19 National Championships carnival with Vic Country just prior to the Christmas break, is hoping that it will translate into club cricket and beyond for the remainder of the season.
"It (the National Championships) was an amazing experience, I couldn't have asked for it to be any better, or any worse," he said.
"Getting to play on the WACA in the end, and being able to learn and play against great players, the facilities, the coaches, it was all second to none.
"The coaches were always talking to me about improving my game, just those little things that I can take and bring back to club cricket and hopefully it can help me progress my game."
D'Rozario's carnival was strong, notching up scores of 38 and 40 throughout, before a sparkling 50 on the WACA in the final against NSW Metro almost helped Vic Country clinch the title.
"I wanted to just go out there and enjoy the experience, and play hard cricket – that's the way I play, and I felt like I played my role," he said.
"There were some limited opportunities at times, but as soon as I got the ball in my hand, or had the stick in the middle-order I was trying to get us over the line, and that's what I based myself off.
"I felt like I played a big role in a few of those games, but if you looked through a few of the players that have come through the ranks, I like to look at myself like a Michael Bevan, he was able to finish off through the middle.
"I unfortunately wasn't able to do that, but I still felt I played a role while it would have been nice to help us over the line on a few occasions."
With the ball, the youngster was just as vital, snaring six wickets at 23.3 and providing excellent spin coverage through the middle overs. Most importantly, he played his role.
"We had a very strong spin attack, so I knew it'd be competitive getting overs in, but when I did get the chance it was about getting wickets, and if not, being economical, which I think as a spin group we did really well," he said.
"It was terrific being involved with the spin group."
At club land for the Tigers in the Victorian Premier Cricket competition, D'Rozario has shown glimpses of his glittering talent in the first portion of the season with scores of 44, 79 and 60 in the middle-overs, while also contributing some handy wickets.
But, the ambitious talent wants more. He wants to hopefully break in for a first XI debut for the end of the season, and help the team – and club – win games of cricket.
"Hopefully I can carry on some momentum from the first half of the season, I got a few scores here and there, but I want more consistency with the bat and to take more wickets with the ball, and I just want to try and contribute the best I can for the team," he said.
"If I'm contributing to winning games for Richmond, I feel like I'm doing my part."
The Tigers have enjoyed a stellar 2019/20 in terms of development, with teenager Jake Fraser-McGurk making his Shield debut for Victoria, quick Mitch Perry making his one-day debut for Victoria, while in total, seven youngsters represented the club at the Under 19 National Championships, including fellow Dandenong District prodigy Yash Pednekar.
"There's no luck about that – the way Youngy (coach Shannon Young) is bringing us all through, his coaching program and the way he goes about it is unbelievable," he said.
"From the first day we walked through the door at TNF cricket in Oakleigh, we all got to know each other and we could feel something special brewing."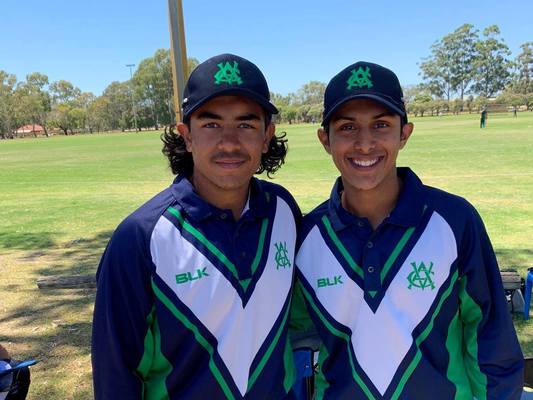 But home is where the heart is.
D'Rozario moved to Buckley Ridges – the little club on Pultney Street that is a powerhouse in the DDCA – from Lynbrook when he was 14, finishing off his junior career at the Bucks, a place where his dad, Shane is revered as one of the club's greatest cricketers, and one of four to have won a Wookey Medal as the champion player in Turf 1.
And even more memorable, the father and son even starred together in a Turf 3 flag for the club in 2016, with Shane belting 74, and Jono snaring 5/56. They even put on a vital 50-run stand that helped sway the game into Buckley's hands.
Those memories of his dad's glory days at the Bucks are ones he'll never forget, and always hold dear to him.
"Huge. Absolutely huge," he said of his dad's influence on his life and career.
"We watch cricket every day around the house, and I think Mum and my sister probably get fed up with it, but we're all the time talking about it, in the car on the way home from training, it's like having another coach 24/7.
"And I was there at every Turf 1 game, always in the nets – he'd always bat down the order. I love hearing the stories about how he and Paul Rudd would come in at seven and eight and somehow save a Turf 1 game, it's brilliant.
"He bowled offies, and I'm always asking about how he used to work out batsmen, but I remember him to be one of the better DDCA players going around.
"The old man is very special."
And as for the club itself, D'Rozario couldn't have higher praise for the current Turf 1 champions, who have got a blend of star players, both home grown and from overseas.
"I'm around the club as much as I can, and every person around the club, whether it's in the ones with DJ Watson, has been brilliant in trying to build great cricketers and help other people," he said.
"That's the most important part of the club.
"Even all the imports that have come through, Luke Fletcher, Dave White at the moment, and getting a chance to talk to those people, give you a chance to keep learning, and it's brilliant they're able to help me out, and help all the cricketers at different levels coming through the ranks.
"The more time I get to spend there the better – they're just awesome people."