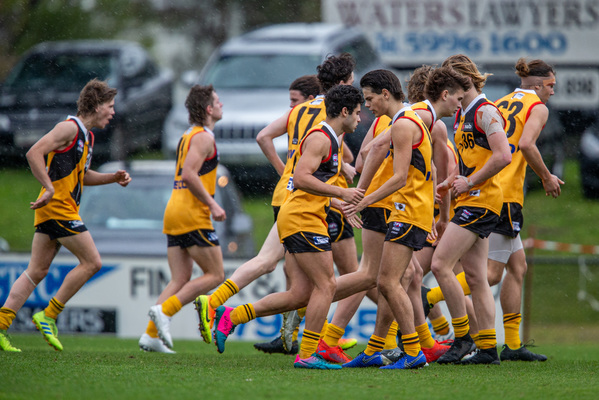 By Tyler Lewis
The Dandenong Stingrays are gearing up for another strong season in the NAB League.
Hayden Young, Cody Weightman, Ned Cahill, Bigoa Nyuon, Mitch Riordan and Sam De Koning rounded out the six Stingrays who were selected in the 2019 National Draft, but 2020 holds a unique year for the Rays with a very different draft class ahead.
Stingrays coach Nick Cox said although it is a different year in the draft, it is a fresh new opportunity for the Dandenong coaches to better the new crop as players and people.
"It is a bit different because of the father-son and academy prospects and all that type of stuff," he said.
"At the end of the day the good players will get through, whether it be the top 40 or best 80, our job is to get them up to speed to be able to get selected at the end of the 2020 season.
"Without putting pressure on anyone, we believe we have a strong even group of players.
"By all reports this year's draft is not as strong as it has been in the past few years, but who knows.
"I am hoping by the end of the first few rounds, a few of these boys get added into the (Victorian) hub squad."
Unfortunately in the draft, a majority of players miss out on the opportunity to fulfil their dreams of playing at the highest level, and one of the unlucky few of the recent years, Jai Nanscawen missed the draft after a horror run with injury, but he has pursued his dream by signing with Central Districts in the SANFL, a move Cox is happy Nanscawen made.
"I was really pleased for Jai when I touched back base with him," Cox said.
"He got an opportunity by Central, he has jumped at it.
"Look Jai was one of the unlucky ones who missed a lot of footy through injury over the last couple of years, I think he still has an opportunity to live out his dream.
"In saying that I think it is really important that these young fellas realise that playing VFL, SANFL or even a high grade of footy is a great achievement and the be all and end all isn't to get drafted to become better as players and people.
"We are pleased at the moment that most of our 2019 top age squad are still training with VFL clubs whether they make the list or not, it is a really big thing for our program for them to develop and fit in at the next level."
The Stingrays training will commence shortly with further cuts awaiting the main group in due time.
Cox's group will open its season on Saturday 21 March against GWV Rebels at Mars Stadium, before taking on the Gippsland Power on Saturday 28 March at Morwell in Round 2.