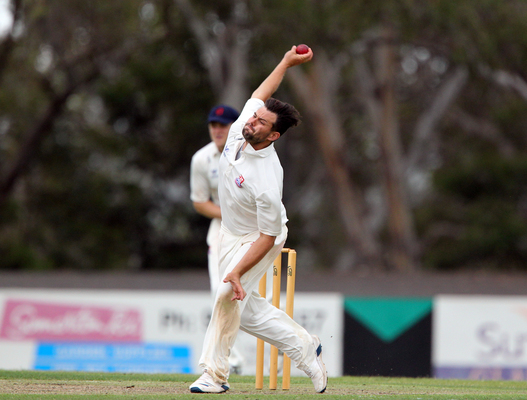 With just three home-and-away rounds to go, Victorian Premier Cricket reporters TYLER LEWIS and NICK CREELY have taken a look at the Jack Ryder Medal contenders – the award given to the champion player of the season.
Across the home-and-away season, votes have been given for each Premier Cricket first XI match, with votes determined by game situation, and overall impact on the specific match.
After Dandenong saw its first ever player win the prestigious award last season, Brett Forsyth, the Panthers are well-placed to see a second player on the podium, with all-rounder James Nanopoulos in the midst of an extraordinary season.
Fresh from record-breaking figures of 9/26 against Greenvale last round, the club's all-time leading wicket taker has snared 43 wickets and almost 200 runs, and has polled particularly well late in the season as the club makes a charge towards finals.
Nanopoulos has polled maximum votes in Round 5 against Geelong, Round 10 against Fitzroy-Doncaster and Round 12 against Greenvale.
Casey-South Melbourne skipper Luke Wells is also polling extremely well after another excellent season playing in Australia for the Swans, and could go in as a serious underdog if he can finish the year with a bang.
The Swans' skipper has crunched two centuries, and has once again been right up there in competition runs, but has also been prominent with the ball with his leggies, snaring 4/45 to go along with his brilliant 159 against Frankston Peninsula recently.
But its the vast improvement with the ball that could see Wells in favour with the umpires, with the Sussex overseas pro producing some excellent spells for his side this season.
But with Nanopoulos in second place with a handful of rounds to go, Ringwood all-rounder David King is a strong chance to win his first award after another season filled with stacks of runs and crunch wickets for the Rams, while aggressive openers James Seymour and Brayden Stepien, as well as Eamonn Vines round out the top five.
Reigning Jack Ryder medalist Brett Forsyth recalls the night he won the competition's most valuable player award for his season in 2018/19, saying it was a suspenseful night after a sublime year.
"(I was) pretty nervous on the night, probably because you know you are in with a chance to win," he said.
"It is difficult to describe, the feeling, because you are winning an award for performances that have been in the past, not really anything you have done on that particular day.
"But it is great recognition, and it is something that you sort of pinch yourself in the days and couple of weeks afterwards."
James Nanopoulos is a roaring contender for this year's medal, with 43 wickets the all-rounder is charging home and while he is observing them closely, Forsyth doesn't think Nanopoulos' performances are going unnoticed.
"He's definitely a contender, anyone who has in excess of 40 wickets at round 13 deserves to be spoken about," he said.
"From there it is a bit of luck, who the umpires vote on the day, James definitely deserves to be up there with the other band of the elite players from this year.
"He has taken bulk wickets in a lot of games, hopefully he can finish the year strongly and on push his case on the night."
Despite his teammate's success this season, the reigning Ryder Medallist has predicted another damaging all-rounder – one being constantly spoken about for higher honours – to take out this season's award in the stretch home.
"If I had to guess, I would say James Seymour will take it out," he said.
"Because he has been dynamic with the bat and his off-spin is a little bit underrated.
"I can see him (Seymour) making a few really big scores in the next few rounds."
| | | |
| --- | --- | --- |
| TOP 20 | CLUB | VOTES |
| David King | Ringwood | 14 |
| James Nanopoulos | Dandenong | 12 |
| James Seymour | Essendon | 12 |
| Brayden Stepien | Carlton | 10 |
| Eamonn Vines | Geelong | 10 |
| Dean Russ | Footscray | 9 |
| Alex Gregory | Melbourne Uni | 9 |
| James Billington | Prahran | 9 |
| Jonathan Merlo | St Kilda | 9 |
| Cameron Stevenson | Carlton | 8 |
| Nick Ross | Carlton | 8 |
| Tom O'Donnell | Essendon | 8 |
| Daniel Sartori | Footscray | 8 |
| Luke Wells | Casey-South Melbourne | 8 |
| Evan Gulbis | Carlton | 7 |
| Michael Hill | Essendon | 7 |
| Travis Dean | Footscray | 7 |
| Peter Dickson | Fitzroy-Doncaster | 7 |
| Andrej Yaksender | Melbourne Uni | 7 |
| Marcus Berryman | Monash Tigers | 7 |