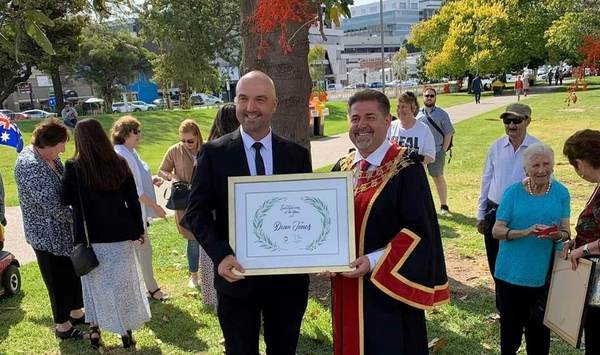 By Nick Creely
Dean Jones' influence on junior cricketers has been monumental.
He's created a safe and inclusive environment and provided opportunities for those less fortunate within the community and for the Silverton Cricket Club to participate in sport.
Considering the challenges that can be presented in attracting juniors into the sport within the region, Dean – and his ability to turn the club's junior program around – shouldn't go unnoticed.
And it hasn't.
Dean was recently awarded the prestigious City of Greater Dandenong Sports Person of the Year at the Australia Day Awards for his contribution to his club and community, which has seen him expand the junior ranks from one team in 2015/16, to seven sides this season, including two girls' teams and over 100 kids participating.
Reflecting on his award, and just how much has gone into revamping the juniors at the club, his selfless attitude – one that has seen him pour hours of work into the cause – was evident. To Dean, it was all about the club, and the kids, and helping them along their journey.
"I'm very humbled to be in the position to influence young people positively," he said.
"For a long time it's been about trying to connect, inspire and feel part of it, and we feel like as a club it's a safe spot to develop kids physically and mentally.
"But one of the biggest kicks is the parents and them seeing the kids going through the grades.
"It's all about developing relationships – we want to assure the senior club for the long-term."
This season, aside from seven strong junior teams, the Bakers have a junior blaster program, have created a winter school holiday program, ran a clinic for year 7s and 8s at Dandenong High School, are continuing to build on a strong relationship with Premier club Dandenong, and are launching a multicultural program in the off-season which aims to raise funds to help underprivileged children in the community participate in sport.
"About six months ago I wanted to created a multicultural program," he said.
"It will be released and create funds and opportunities for those in the community.
"We'll be working with Cricket Victoria, council and aiming for those communities who need a bit of a pickup and see what we can offer.
"We want to embrace who we are, and get them to join the club, and make them feel connected."
Dean said that while starting his role and helping build the junior program was a challenge, it is all worth it seeing kids involved in the sport and being part of a welcoming, inclusive environment.
"I'm just a dad who loves his club and community, and whilst I have the ability to do this I want to make sure I influence the next generation and help balance out that mental and physical well-being," he said.
"I think if you have genuine care for people it makes it a lot easier, but it's a relentless effort.
"It' not all about the wins and losses as such, I'd rather them learn how to be part of a team, a community and grow as a person."