By Tyler Lewis
'He's given him! Peter Siddle's got a hat-trick on his birthday'.
With arms aloft in the middle of the Gabba on day one of the 2010 Ashes series, Peter Siddle created history in a moment of brilliance that will echo through the game of cricket – and now, even more so that he has safely tucked away his Baggy Green.
But for the right-arm quick, his career was much more than that fateful day in Brisbane.
It was one that begun for his beloved Dandenong Cricket Club, developing his trademark lion hearted spells as a youngster, before he was rewarded for all the long days in the nets with the honour of being the 403rd Australian Test Cricketer.
As just a teenager, Siddle impressed the people who mattered at Victorian Premier Cricket club Dandenong and with intentions to utilise his talent, he was eager to play against men, albeit waiting for his parents' approval.
"It definitely was a long time ago," he said.
"Initially I played two years of Dowling Shield when it was Premier Cricket for Dandenong, so I played as a 14, 15-year-old for Dandenong in that competition.
"It all started when I played the Hatch cricket competition for Noble Park, so it was an early progression down in the Dandenong area, it all came about in those junior years.
"When they (Dandenong) showed interest in me starting my senior career, I jumped at it, I obviously needed the parents to buy in because they had to do the driving.
"Once they agreed, it was an easy decision to make, (and) it is one I am grateful for.
"The late Des Nolan who oversaw my progression as a young kid and Brendan McArdle were the two key influences when I first started, then the numerous senior players, the older guys we had around the team at the time showed me the ropes."
Upon announcing his retirement, his close mate James Pattinson was on fire at the MCG, a strong friendship that started down at his local club through James' older brother Darren who also pulled on the international threads, playing one test for England.
"(We became mates) through his older brother Darren," he said.
"James used to come and watch us play and have a bit of banter with the boys in the change room, he used to laugh away at us and hang shit on us as a young kid.
"Once he joined, similar to me, join at a young age and you get around the senior guys who are playing with men, we noticed then that the talent he had.
"How quickly he developed once he started playing with men was quite extraordinary."
The Shepley Oval cabinet has three pieces of silverware from the first XI side in red ball fixtures, which Siddle has played in all three – while he has an astonishing resume of accomplishments, the three flags for his home club still sit dearly in his heart.
"It is massive, the first one I had played a lot of cricket over the corresponding years," he said.
"The first one, I had played at the club for a long time and you always are trying to win something and play a part in finals.
"It was with a good group of guys who had been together for a long time, I still remember it, and club legend in Tim Hooper got to play a part in it before he hung up the boots.
"To be able to play along someone like him, who had been there a long time, longer than me, to experience that and play a part in it, was quite memorable for us as individuals but us as a team.
"It had been such a long wait for that opportunity and we definitely made the most of it."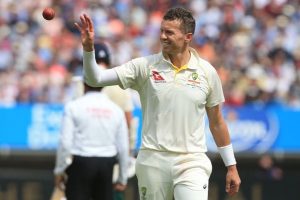 After he had debuted for Australia, Siddle returned to play for Dandenong and add another premiership in 2010/11 in what is considered the greatest grand final of the modern era.
Dandenong captain Tom Donnell recently told Star News Group that "if you were playing it wasn't the greatest grand final, three days of just non-stop nervousness.". While it was some sort of spectacle, Siddle agrees with Donnell, adding that it isn't a game he will forget any time soon.
"Similar to what he said (Donnell), I think it was definitely the hardest one (premiership)," he said.
"The other two we were pretty dominant in both games, sort of flew away in front, that one was the most nerve-wracking.
"But then when you look back on it – I have played a lot of cricket, all around the world, a lot of games, but that is probably one of the most amazing games I have been a part of.
"How it ebbed and flowed and then finished, everyone was still a chance of winning, even late in the day, as nerve wracking as it was, you look back on it now and once you are the winner from it, it is a memorable game."
Many cricketers who hope to earn a Baggy Green are burnt out by the time their moment in the sun comes, but for Siddle, the smooth transition from state and club cricket to the international arena was made all the more easier with a strong mental outlook.
"I think that is something I have been good at," he said.
"I have always said 'It is just another game', a lot of people can't see it like that and can't deal with it.
"But it is the one thing I have been good at, it doesn't matter, who, when, where I was playing, that at the end of the day I just see cricket as a game I loved as a young kid – and I try to play it the same way.
"I think because I see it like that, it has made it easier to move into a different level or a bigger game if it is a final."
On his 26th birthday, Siddle claimed Alastair Cook, Matt Prior and Stuart Broad in consecutive balls late on day-one, becoming the ninth Australian to take a hat-trick.
It's a moment he believes gave him confidence in his long awaited return from the rehab group, while admitting the moment of pure euphoria didn't actually go to plan, although achieving the desired result.
"I had obviously only been playing for a couple years up until that time," he said.
"I had my ups and downs, injury, before that I was off from a big lay-off with a back injury, so to be able to do that probably gave me the confidence straight away that I can still compete at the level.
"Moving forward it definitely gave me something to talk about and remember that's for sure. There are lots of good memories over the years, but that is always going to be up there with the best.
"You don't really get too nervous; you just want to bowl a good ball. For me I was just thinking 'run in, bowl it fast, bowl it fast, hit the wicket and bowl it fast'.
"In the end I didn't hit the wicket, I hit him on the full.
"That's all I was thinking 'run in, bowl fast', similar to what you do as a young kid growing up, it didn't quite come out exactly to plan and the execution of what I wanted but at the end of the day it had the same result I was looking for."
Four years later, Siddle's close mate Philip Hughes was escorted from the Sydney Cricket Ground, changing the meaning of the date 25 November forever.
"It has played a big part in my life, he was someone who was really close to me," he said.
"It is fair to say I have the highlight of having the hat-trick on my birthday but ever since, it has been pretty quiet.
"I don't tend to celebrate it too much these days, not really one I like to remember anymore.
"It is very sad, obviously what went on over that period – it was his birthday not long after that as well, the end of November is never usually an enjoyable one in not only my life, but in lots of players around the country.
"The way I played my cricket is a lot more enjoyable now because of what happened, the impact that it had.
"Personally, it made it a little bit different when bowling, sometimes you have thoughts about it but I probably don't bowl as many bouncers as I once did.
"The aggression is still there, but it has changed a lot."
Of Siddle's 67 Tests for Australia, seven were at the Melbourne Cricket Ground in front of his family, friends and often over 80,000 die-hard fans – while the MCG became his second home, its deafening noise on Boxing Day is still one he cherishes whenever his feet touch the hallowed turf.
"It is unbelievable," he said.
"As a Victorian growing up I would go and watch matches there and you are in the crowd, you are the one cheering.
"To then be able to walk out onto that field, as a Victorian, and the support you got definitely made you stand up a bit taller and perform a bit better.
"I have a lot to thank for the fans that came along; it definitely helped me when I was out there.
"I don't think there is a greater feeling in the world than walking out on Boxing Day and hearing them cheering your name."
The decision to hang up the international boots was one of thorough discussion behind closed doors, one that could have happened overseas after a historic victory, before the opportunity to go out in style on home soil lured the quick to continue on for another couple of months.
"The wife and I spoke about it in the lead up to the Ashes before I left for County cricket," he said.
"If I got on that Ashes tour than I might do it there, it had been in the pipelines for her and I for a good six months.
"During the Ashes there were more discussions with Tim Paine and JL (Justin Langer), about maybe doing it there.
"They just threw it out there that the opportunity may come up back home in Australia; obviously I took my chances doing it back home in front of family and friends.
"At the end of the day, 67 Tests, I can't complain too much."
While still intending to see out his time at Victoria, County Cricket and domestic T20 competitions, Siddle still envisions a return to where it all begun in the distant future.
And with fellow Dandenong quick James Nanopoulos taking the Victorian Premier Cricket competition by storm this season, Siddle has accepted he might have to stride up the hill into the wind in the second over of the match if Nanopoulos' form continues.
"I have retired internationally, but I will probably end up playing more cricket than I was anyway with state and BBL," he said.
"At the back end, when I start phasing out of cricket, no doubt there will be opportunities to go back and have a run around James (Nanopoulos) again, and Tommy (Donnell), Forsy (Brett Forsyth), those boys I have played a lot of cricket with.
"I will get back there at some stage and have a run around with them. I will probably have to bowl into the wind, he (James Nanopoulos) will have first choice with the records he has going at the moment.
"It is amazing to see, I still remembered when he turned up at the club, and he was a batsman. Opening the batting and whacking it at the top in the white ball stuff, to see him now and especially the last few years to be the player he has turned into, especially his bowling – to be dominating Premier Cricket, breaking all the club records, it is great to see.
"Like I said he came to the club as a batter but he worked hard, that was the other thing, he worked hard on his game and to see where it is now is amazing."