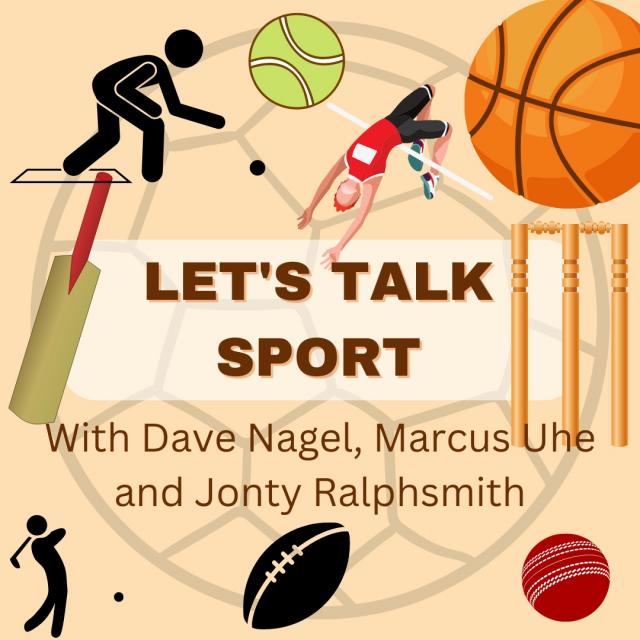 DAVE: Welcome to another massive edition of Let's Talk Sport boys. The Melbourne Cup Carnival is over and unfortunately I couldn't back up last year's heroics with another winning tip for the big race. We've got Australia in the World Cup semis later this week; that's huge…but let's start with our best action from the weekend. Marcus, you've got the most notes, so we'll start with you.
MARCUS: I had the pleasure of watching Jordy Wyatt hit 118 off 90 rocks on Saturday for Springvale South. He took a particular liking to the Berwick spinners, but the highlight came not long before tea when he was closing in on the ton. Toby Wills dropped short, right in Jordy's slot, and he hits a pull shot for six in front of square. But what made it the best action was that it cleared a row of cars parked on the fence, when a broken windscreen looked a possibility.
JONTY: Was your car one of those in the firing line? And second question; Are you careful where you park at games?
MARCUS: Thanks for interjecting Jonty. No, my car is normally parked on the street if I can.
JONTY: It's important; particularly for me…I don't have windscreen car insurance.
DAVE: That's nice to know Jonty. What was your best action mate?
JONTY: I watched Parkfield versus Parkmore and Berwick Springs versus Lynbrook. The best action came from the 'Park' match. The Parkfield captain, Stevie Cannon, was in the paper recently because a Cranbourne player belted him for six, but this week he's in because he bowled absolute hand-grenades on Saturday….bowling as well as I've ever seen him bowl. The best action was when he gained a leading edge from Ammar Bajwa and it looked like it was going to fall short of mid-off. But Roshane Cooray took a magnificent one hander, just centimetres from the ground – as good a catch as you will see in local cricket.
DAVE: My best individual piece of play – which is the essence of LTS – was a glorious square drive from Devon Meadows star Lucas Ligt. I went to Pakenham until the drinks break, listening to the races in the car, to watch either Lucas or Dale Tormey bat. Ligt blocked his first ball, then guided one through the gully for two, and then from his third ball hit this glorious square drive for four. He was seven off three balls and that shot just wreaked of class. Most local cricketers hit their drives straightish, to mid-off or covers, but this was a proper square drive that you normally see at the highest levels of the game. It was a beauty…he delayed his shot perfectly and it raced to the boundary. He went out disappointingly, hitting a rank half tracker to square leg, but that square drive was the early highlight.
JONTY: The other shot that shows class is an on-drive with a really straight bat. Tajbir Powar played a few of those for Lynbrook.
MARCUS: Both of best action's, Dave…both interrupted by Ralphsmith.
DAVE: Yep, he's in a talkative mood this morning.
BRING BACK THE STARS
DAVE: Hey boys, I played cricket quite a few years back now in the lower grades against Dan Irvine from Officer. He had all the skills; swing it both ways, roll his fingers over it and bowl cutters, and he was way too good for the lower grades. He used to take bags of wickets for fun.
MARCUS: Did he get you out Dave?
DAVE: He wasn't that good, getting through my defence is like trying to break into Fort Knox! (Boys laugh). I often got mistaken for Rahul 'The Wall' Dravid. Anyway, he is now playing District cricket for the Bullants and had figures of 13 overs, five maidens, two for 18. Boys, it got me thinking; if you could bring back players from the past and watch them play in their prime…who would they be?
JONTY: You mention Dan Irvine and you playing against him, what about bringing Dave Nagel back!
MARCUS: Jonty, what a suggestion (Boys laugh).
JONTY: What would we see if we did?
DAVE: Nothing special mate. Just a bit of sledging between opening bat and opening bowler.
MARCUS: C'mon Dave, Jonty and I have dug out old photos of you and plastered them all over the office and you look like Mark Waugh reincarnated.
DAVE: C'mon boys, let's straighten things up here. Jonty?
JONTY: I'll give you a couple. I'd love to see Peter Lindsay from Narre Warren play; you hear a lot about how good he was in the late 80's and early 90's as a ruckman. Mark Gottliebson from Cranbourne, he was a key part of their dominance through that same era and I'd love to bring back the Doveton cricket team from the early 2000's. Brad Downe, Scott Brandon, Nathan Wilson and Ryan Hendy, those blokes in their prime would bring some spark back to a club that is struggling a fair bit at the moment.
DAVE: Marcus, wind back the clock for us.
MARCUS: These selections have a two-fold effect. We need two new openers over the next year or so, with (Usman) Khawaja and (David) Warner almost done, so let's create some fireworks and bring Justin Langer and Matthew Hayden into the team. Can you just imagine Pat Cummins captaining those two…
JONTY: Pat Cummins captaining his former coach.
MARCUS: Could you just imagine the shenanigans that would go on. The two-fold effect is getting Hayden out of the commentary box…he is hard to listen to. Let's get Dos and Langer back to open…
JONTY: Can I interject?
DAVE: What, for the fifth time already today…
JONTY: What about getting Michael Clarke back?
DAVE: No way.
MARCUS: Are you mad Jonty? And locally, Steve Spoljaric won six Wookey Medals in nine seasons, that's outrageous. He dominated for Parkfield, Cranbourne and Springvale South and I'd love to see him play in his prime.
DAVE: Boys, I was lucky enough to see Marc Holt in his prime, the best full-forward I've seen, but some people say Danny Cassett was equally as good as Holty about five to 10 years earlier. I'd like to get Holty and Cassett in their prime and just sit back and watch them go head to head. Steve Dalgleish; nickname 'Brutus", I've heard stories of him terrifying batters with his pace and I'd love to bring him back and watch him at his very best. And Eddie Lewis, a champion Pakenham batter that I never saw at his best. He looks like Santa Claus, with his big white beard, but he was still making runs in the lower grades when well into his sixties. He played against a couple of international visiting teams in his day…so must have been a gun. And Bobby Skilton; left foot and right foot drop kicks going 50 metres – I'd love to bring him back and watch him in his prime.
LOCAL LEGENDS LEAVING
DAVE: Boys, Marc Holt has left Cranbourne to go to Lang Lang and over the weekend Jonty informed me that Nar Nar Goon champion Brendan 'Baz' Hermann is leaving his beloved Spencer Street to play at Devon Meadows. Now, Baz and Brent Hughes are the two players that I never thought would leave the Goon. What drives players like Holty and Baz to leave clubs that they are absolute legends at?
MARCUS: Coin. (Boys laugh). Are these moves like the Hodge, Mitchell type moves, where they've done all they can at their current club and just want somewhere new to have success?
DAVE: Look, Holty has played in a premiership only two years ago at Cranbourne, so I can understand him leaving, but Baz has been starved of success at Nar Nar Goon and now he's leaving when they look a great chance of winning a premiership. Baz Hermann was injured from round seven onwards this year, and there's a very good case to say that the Goon would have at least made a grand final…if not won it…if he was fully fit. I just think he's going to feel sick in the guts and regret his move for a long time if the Goon wins the flag next year.
JONTY: Writing the story on Hermann this week, I knew the loyalty factor to Nar Nar Goon was important to him, but I had no idea that the Goon were so close to winning a flag. He's gone to Devon Meadows, who have Hermann and a couple of other inclusions from Mordialloc who probably make them early flag favourites in MPFNL Division two next year, but there must be other reasons then if he's walking away from potential success at a club he's been loyal to for many years.
DAVE: From talking to Devon Meadows coach Ryan Hendy this week, why do think Hermann has left?
JONTY: He works with Hendy, and he's been in his ear all year about it…and success. That's why the Nar Nar Goon situation surprises me.
MARCUS: Can they still win it without him?
DAVE: Yes they can, but they've just lost one of the best and smoothest moving midfielders in the competition.
DAMIEN OLIVER – THE GOAT
DAVE: You two have got no idea about horse racing, and that's fine, but Damien Oliver is widely regarded as the GOAT of jockeys…the greatest of all time…and he's currently on his farewell tour. My question is: When I mention the word GOAT, who immediately springs to mind, locally and at the elite levels?
MARCUS: Elite level, I really wish I was old enough to appreciate the brilliance of Shane Warne. I wish he was in his prime a decade later, one, so I could enjoy it, and two, to have Shane Warne in the Twitter era – on and off the field – we'd be in for something even more special. Look, I'm probably addicted to Twitter to begin with…
JONTY: Sorry to interject again, but it feels like that, you've mentioned a few times recently, "If this happened in the Twitter era, if that happened in the Twitter era"…
MARCUS: And just imagine the feeling of being the undisputed GOAT in your sport. There's a few up for grabs, like Michael Jordan and LeBron James in basketball, but if you're Kelly Slater in surfing…you're untouchable and the best to ever do it. That feeling must be incredibly satisfying.
DAVE: Michael Jordan was untouchable when I was your age…is LeBron the man now is he?
MARCUS: Most people would still say Jordan, but you've got your LeBron people and your (Nikola) Jokic people.
DAVE: Nice work Marcus, you just worked your Denver Nuggets into LTS when they had no right to be there…again! Jonty…GOAT equals?
JONTY: Tiger Woods. Don Bradman. Leigh Matthews.
MARCUS: That last one is debatable.
DAVE: On that one boys, with Leigh Matthews, we overlook the controversy surrounding his hit on Neville Bruns and still regard him as a contender for the greatest, and we do the same with Oliver. He was suspended for 10 months back in 2012 for admitting to putting a $10,000 bet on a rival horse, Miss Octopussy, to beat a horse he was riding in the same race. He's a dead-set champion at what he does, riding horses, but he's lucky he didn't get banned for life for doing that. Anyway, just thought that was interesting.
MARCUS: Shane Warne had his issues.
JONTY: Steve Smith as well with the sandpaper-gate. My other GOAT is Roger Federer. At a local level, and this takes a Dovetail from your topic Dave, are players like Jimmy Munro and Mitch White going to be the last players to be 10-year stalwarts at a VFL club like Casey? I just can't see that happening too much in the future.
DAVE: Good point Jonty. For me, when I think GOAT I think Ronnie O'Sullivan in snooker, the most naturally gifted sportsperson I've seen in any sport. He plays at the highest level and won five World Championships, but he makes the game look ridiculously easy. Get on YouTube and search Ronnie O'Sullivan 147…and you'll see an absolute genius at work…he's the best ever. Locally, former Beaconsfield ruck Scott Meyer is the best ruckman I've ever seen. He has a huge leap, is super-athletic and has skills like a gun midfielder…a freak. And Dwayne Doig from Cardinia…the best local off-spinner I've seen. Thanks for the chat boys.