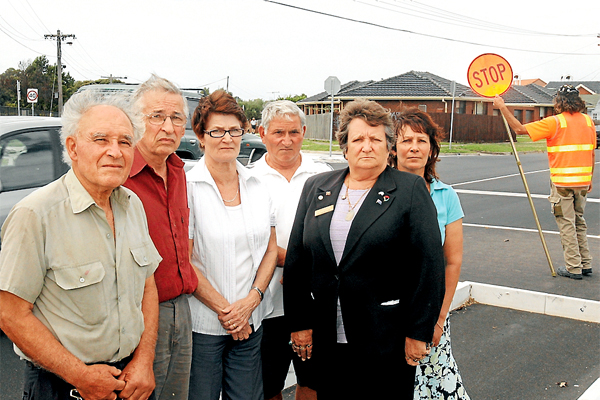 By CAMERON LUCADOU-WELLS
WHAT DO YOU THINK? SCROLL TO BELOW THIS STORY TO POST A COMMENT.
LIVID Dandenong residents have vowed to continue the fight against Greater Dandenong Council's plan to close Herbert Street to traffic during school hours.
Resident Tony Meurs – one of 794 residents who voted against the street's closure in a council survey last year – said "we will do whatever it takes" to reverse the council's decision.
Before a council meeting last Tuesday, residents were expecting the city to scrap its plan for automatic rising bollards and install pedestrian traffic lights instead.
Last month, the council – in a 5-5 decision split by mayor Youhorn Chea's casting vote – approved the bollards.
The decision was then blocked by Cr Angela Long, who brought a rescission motion to defer a vote on the matter until last Tuesday.
Cr Yvonne Herring, who was absent for last month's vote, was expected to help vote down the bollards 6-5 at the latest meeting.
But the strategy failed despite Cr Herring's presence. Cr Maria Sampey changed her mind and voted against Cr Long's motion, creating a majority for the bollards.
There have been calls for improved student safety in Herbert Street since a year 12 Dandenong High student was injured on the crossing last year when struck by a driver who lost control of her car.
As a result of a trial closure of the street, residents lost a local bus service. They argue they will also lose direct vehicle access to Princes Highway and that more traffic will be diverted to the nearby Dandenong North Primary School.
"This is more than just a neighbour or two against it. There's close to 1000 people writing into council about it," Mr Meurs said.
Cr Peter Brown said the arguments that the primary school would be adversely affected were a "furphy".
"There are a number of alternative routes," he said. "The end result will be a major improvement to residents' amenity because there will be less traffic in the area."
He said a critical factor in closing off the street was that students had to cross between the high school's campuses throughout the day.
The bollards will be funded by the education department. The traffic lights option, which isn't supported by the department, would cost the council $175,000.