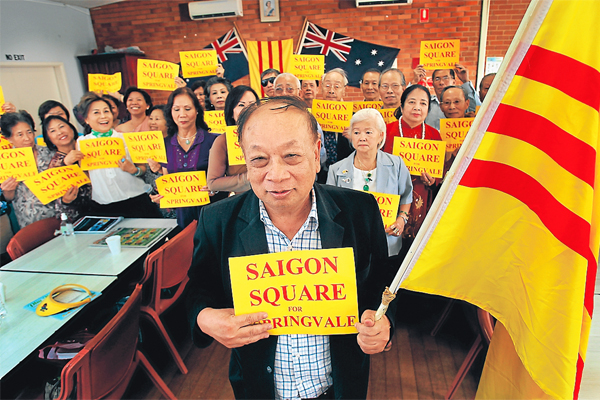 By CAMERON LUCADOU-WELLS
WHAT DO YOU THINK? SCROLL TO BELOW THIS STORY TO POST A COMMENT.
GREATER Dandenong's desire for a harmonious name for a Springvale public space seems headed for a showdown with the Vietnamese community.
Last Tuesday, the council voted down the name Saigon Square for the proposed Buckingham Avenue site, in favour of "more inclusive" title Multicultural Place.
The decision upset residents like Trung Doan, a convener of "shocked" Saigon Square supporters, who described Multicultural Place as a "very bland" name.
"It's like putting 140 ingredients in a blender and mixing it. It doesn't accentuate the multicultural nature of the community.
"Had the council chosen the name of Saigon Square, we could have also had spaces like a Chinese garden, a Delhi precinct. Then the City of Greater Dandenong would be seen as a great multicultural community."
Greater Dandenong's mayor Youhorn Chea opposed the Saigon name because the name "can't exclude any community".
Cr Chea said it would be equally offensive to some Vietnamese people if the square was named Ho Chi Minh – the official name of Vietnam's capital city since the Vietnam war.
The council's decision defied a crowd of more than 150 spilling out the doors of the council chambers, many waving yellow placards in support of Saigon Square.
The council received petitions with 11,000 signatures – with more than 8000 supporting the name – but Cr Chea raised doubts over that.
"You can't get that just knocking on the door or setting up a table on the street. I don't think it's a genuine petition."
Mr Doan said the group believed there was a "lack of due process" in choosing the name, as Cr Roz Blades was on the council's public naming committee despite previously voicing her opposition to Saigon Square.
Mr Doan said the council acted in an "undemocratic" manner in "rejecting the option chosen by 83 per cent of people".
Lawyer Heang Tak, who demonstrated against the Saigon Square name at Tuesday's council meeting, said Multicultural Place was an "excellent" name that "allows all nations to feel welcome to Springvale".
"Being democratic is about having the voice heard for all, the small, the weak and the disadvantaged members of the community who otherwise would not be heard. It is not about the size of the community."
Vietnamese war veteran Tan Thai said the Saigon name represented the cause shared by South Vietnamese soldiers who fought beside Australian troops in the Vietnam War. "We died for freedom. Why do you want to forget that?"