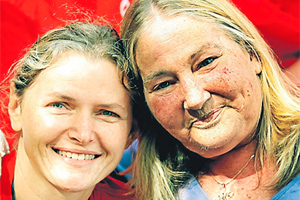 By CAMERON LUCADOU-WELLS
A RETIRED nurse who spent some of her last hours rallying for her colleagues has been remembered as inspiring.
Dandenong's Jennifer Browne, as reported in the Weekly, joined nurses in industrial action protests outside Monash Medical Centre on February 29. She was a patient at the hospital's palliative-care home McCulloch House.
Ms Browne spoke stirringly, making a public pitch directed at Premier Ted Baillieu for a resolution to the dispute.
She said she needed the best possible care to live long enough to go to her son Jason's wedding in late April. "Mr Baillieu, I implore you not to make these cuts and instead deliver to us the health service we deserve," she said.
The bitter stand-off ended on March 6. Ms Browne died three days later, 15 months after being diagnosed with breast cancer.
Her daughter Belinda Deville wasn't surprised her mother had been rallying on the frontline.
Ms Browne's room overlooked the rolling protests but most days she couldn't join because of her ongoing treatment. "She does try to fight for things she believes in. She had her down days but was very positive towards the end," Ms Deville said.
The weekend before she died, Ms Browne stayed at Crown casino for what turned out to be a final fling.
In the meantime, she organised lockets and dogtags for her five children and six grandchildren. They were simply signed "Love Mum" or "Love Grandma".
Ms Browne's condition quickly deteriorated while Ms Deville was holidaying in Mallacoota that week.
Near the end, Ms Browne couldn't speak much. Ms Deville rushed back to her mother's bedside and her mother held her hand in acknowledgment.
A palliative-care nurse said she was inspired by Ms Browne's pragmatism and how she managed her affairs up to the end.
"She was a strong character. She gave us a lot of encouragement – not just with the strike but during her care."
In a web comment to the Weekly, Ms Deville stated: "Sadly my beautiful mum passed away on 9/3/12. I'm so proud of her and it's awesome to see her in the paper rallying for a wonderful cause. Missing her dearly. You go mum."